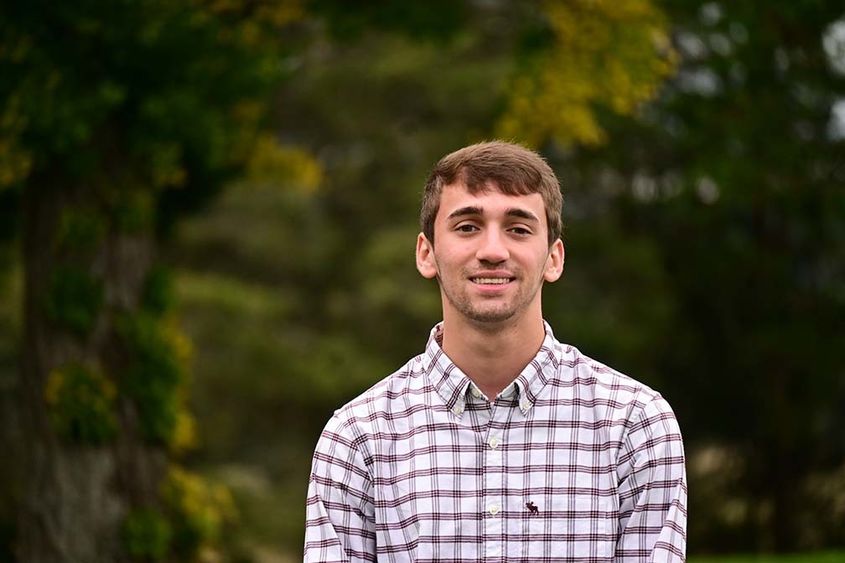 DALLAS, Pa. – Steven Qarmout, who recently completed his first two years of study at Penn State Wilkes-Barre, has been accepted into a scholarship and leadership program at University Park. Qarmout also received a scholarship from a national forensics organization.
Qarmout, a graduate of Dunmore High School, is majoring in forensic science. As part of the 2+2 Plan, he is transitioning to University Park beginning this fall.
He was selected as part of the Science Dean's Scholar Program (SDS), designed for Eberly College of Science change of campus students. The program provides financial and academic support for third-year students who come to Eberly College of Science through the 2+2 Plan.
Students accepted to the SDS program are matched with peer mentors and a transition adviser to help them learn more about the resources and career options available to students pursuing a science or math degree. They also participate in a one-credit fall semester seminar focused on academic and professional development, in addition to social and professional programming throughout the school year. Additionally, they are eligible to receive financial awards.
As part of the SDS program, Qarmout attended the weeklong Summer Bridge Program at University Park in May, where he was able to meet other students, mentors, research faculty and academic advisers and learn more about research opportunities, professional development and careers in the field.
"I think the Science Dean's Scholar Program will give me a better understanding of what the Eberly College of Science has to offer for me," Qarmout said. "Going to the bridge program provided me with a lot of information about research opportunities and how I can continue to pursue research like I have been doing while at Penn State Wilkes-Barre."
At Penn State Wilkes-Barre, Qarmout worked as a research assistant with Jeremy Olson, assistant professor of criminal justice, and Rebecca Sarver, assistant teaching professor of criminal justice and criminal justice program coordinator. He also participated in the national Academy of Criminal Justice Sciences (ACJS) conference, where he presented research about issues regarding crime and criminal and social justice.
"By starting at Penn State Wilkes-Barre, I found out about so many opportunities Penn State offers," Qarmout said. "I feel very lucky that because I started at a Commonwealth Campus, I was able to get those opportunities. The smaller classes, opportunities for scholarships and more one-on-one time with professors was exactly what I wanted."
In addition to being chosen for the SDS program, Qarmout recently learned he received the 2023 Floyd E. McDonald Scholarship from the Southwestern Association of Forensic Scientists. He received several scholarships during his time at Penn State Wilkes-Barre, including the Chancellor Award, Penn State Alumni Trustee Association Scholarship and Penn State Wilkes-Barre Renaissance Scholarship.
"It's because of these scholarships that I have been able to have a great college experience without struggling," he said. "Not having to worry about financial difficulties has made me able to focus more on my studies. I'm really grateful I've been able to receive so many scholarships."
At Penn State Wilkes-Barre, Qarmout was a member of the Student Government Association (SGA) and held the role of public relations board officer during his first year. He also served as chairman and student representative for the Safety Committee that is part of SGA. He is a member of the Delta Delta Epsilon forensic science honor society.
This summer, he is completing an internship with the Lackawanna County Coroner's Office. He hopes to learn more about career paths in his field through his internship and is interested in exploring the possibility of working for the FBI.