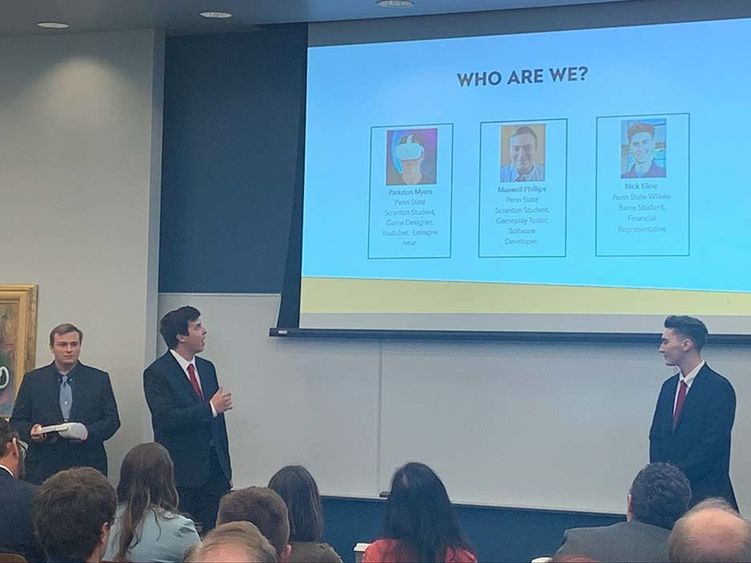 A student from Penn State Wilkes-Barre is part of a team that has been named business plan competition finalists.
Nicholas Kline, a junior majoring in business with a concentration in accounting, was part of the team selected as finalists in the 21st annual tecBRIDGE Business Plan Competition Collegiate Division with its project titled "Gamer Realities." As part of the team, Kline designed the financial plan for the project. The others on his team are students at Penn State Scranton. This was the first year that students from multiple Penn State campuses combined to form a team for the competition.
"Nicholas is a strong student and we congratulate him and his team on their hard work and finalist status," said Stephanie Gresh, assistant teaching professor of business and coordinator of the Penn State Wilkes-Barre LaunchBox. "We are excited by the regional collaboration between the Wilkes-Barre and Scranton campuses as we work to support entrepreneurship in our communities. Teaching students to apply the knowledge they receive in the classroom helps develop their experiences and skills while they build their resumes and careers."
Kline said, "I wanted to participate in this opportunity because I wanted to connect and meet with new people and offer my services as the finance representative to help out with a group in the competition. This was also something that would look great on my resume. Working with my teammates was a significant learning experience for me. We collaborated well with each other, and we had great synergy throughout."
The five finalists in the collegiate division presented their projects in a live-pitch format to a panel of 10 community judges on April 13 at Misericordia University. Winners will be announced on April 27 at an awards event held at the F.M. Kirby Center. The winning team receives a cash prize to be used for business startup expenses. Parkston Myers, a member of the team from Penn State Scranton, intends to pursue Gamer Realities as a business effort, developing virtual reality games.
"Entrepreneurship is about much more than starting a business," Gresh said. "It's about developing and building key skills such as critical thinking, a growth mindset and emotional intelligence. Participating in events like these helps propel students into their careers. They can learn what they want to do or don't want to do, and learn how their skills can be applicable in other careers they may choose."
"From this competition, I learned the importance of teamwork," Kline said. "Being able to collaborate between campuses on a competition such as this was an excellent opportunity in all aspects. I learned the importance of communicating with others, time management and how to effectively compromise."
Student participants were also able to receive guidance from business leaders in the region throughout the stages of the competition. Don Webster, executive director of tecBRIDGE, and Frank Sorokach, John Drake and Kevin Feifer of Penn State Scranton have worked with the team since November to help them prepare for the competition.
"The students get a lot of great mentorship from area leaders and from tecBRIDGE," Gresh said. "They coach the students and support them. This experience and the connections students made in the community are incredibly valuable to them."