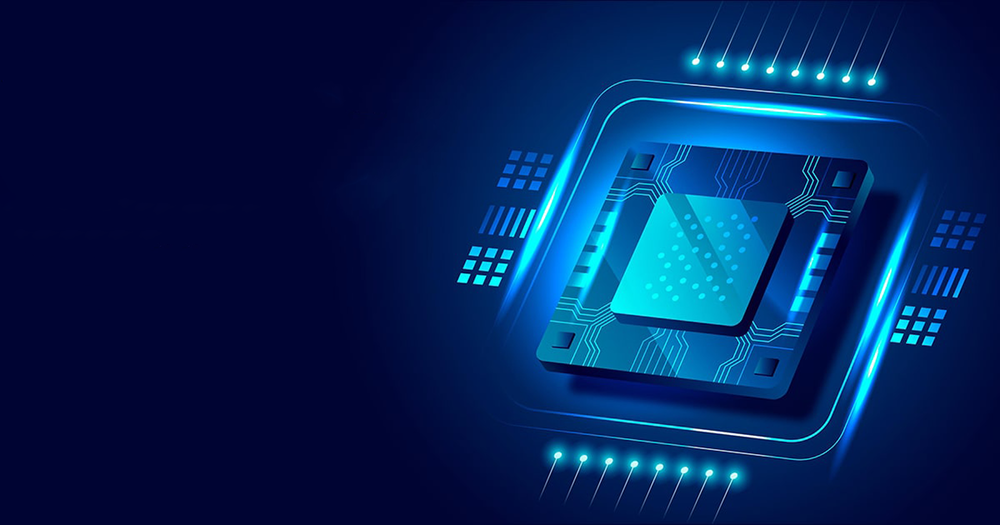 DALLAS, Pa. — Industry executives, economic development professionals, community leaders and educators are invited to attend a forum at Penn State Wilkes-Barre that will focus on the federal CHIPS and Science Act designed to revitalize the domestic semiconductor industry. The forum is part of PennTap's Northeastern PA Technology, Economy, Community (TEC) Talks, designed in partnership with local industries, nonprofit organizations, Penn State faculty and Penn State Commonwealth Campuses in the region to spur discussion on emerging technologies and their potential to drive the regional economy, as well as identify use-inspired research and workforce education needs. The event is sponsored by the Wilkes-Barre LaunchBox.
The forum, which will be held April 28 at 2:00 p.m. in the Barry Auditorium in the Nesbitt Academic Commons (AC-103), will also highlight the Mid-Atlantic Semiconductor Hub (MASH) initiative, which Penn State is helping lead as part of a broader coalition of universities and industries. Speakers will discuss the opportunities and challenges these initiatives present to local manufacturers, entrepreneurs and educational institutions, as well as the future economy of northeastern Pennsylvania.
"Semiconductors (chips) are the foundation of the modern world. They power everything from our smart phones and computers to automobiles, drones and biomedical devices, yet most chips are manufactured outside the US—with the majority manufactured and assembled in Asia," said Daniel Lopez, Liang Professor of Electrical Engineering and Computer Science at Penn State. "The 2022 CHIPS & Science Act provides funding to bring the most sophisticated technologies back to the U.S. and develop more resilient supply chains. As we learned with the COVID-19 pandemic, domestic supply chains and manufacturing are critical to both economic and national security."
Lopez is spearheading the CHIPS and Science Act initiative at Penn State, which is focused on developing infrastructure for research and prototyping innovations, workforce education and training, and industry partnerships. Penn State has joined forces with nine other research universities to form the Mid-Atlantic Semiconductor Hub (MASH), a network of smart and agile pre-manufacturing infrastructure nodes to accelerate CHIPS innovation and deliver workforce development across the supply chain.
"This presents an opportunity for Northeast PA industries, entrepreneurs and educational institutions to play an important role in this initiative," said Krista Schneider, who serves as the Pennsylvania Technical Assistance Program (PennTAP) technical advisor to Northeast PA, a division of Penn State's Office of Industry Partnerships. "That's why we are hosting this forum—to create a platform for learning, networking and building new connections that could lead to future collaborations for researchers, local manufacturers, economic development organizations and other academic institutions."
Based upon what Lopez and his colleagues have heard from industry, they believe there is opportunity to focus on "silicon-adjacent technologies" as technologies that are manufactured with silicon-based equipment and facilities. This could include advanced chip packaging architectures, increased productivity technologies (such as digital twins), novel assemblies, power management and materials beyond silicon.
In addition to research and development of a domestic supply chain, workforce education is key to this initiative. The initiative seeks to promote cooperation between industry and academia, such as industry-informed curriculum development and development of alternative certification pathways at all academic institutions, including research universities, four-year and two-year colleges and technical training programs.
"In all facets of this discussion, education is crucial, starting with K-12 STEM programming and continuing into higher education," said Timothy Sichler, assistant teaching professor and program coordinator of Electrical Engineering Technology (EET) at Penn State Wilkes-Barre. "It's important for us to provide relevant STEM programs for high school students so local employers in the semiconductor industry can find the workforce they need."
The workshop begins at 2 p.m. with a welcome by Lynda Goldstein, Penn State Wilkes Barre chancellor and chief academic officer, followed by presentations by Lopez on the MASH initiative; Heather Carreiro, general manager of operations at onsemi's Mountain Top Facility; Mark Granahan, founder and CEO of iDEAL Semi, a Bethlehem-based fabless startup company; and Sichler, who will speak about Penn State Wilkes-Barre's EET program and STEM education needs related to his experience coordinating the annual Northeast Regional Science Olympiad. The forum will be moderated by Ken Okrepkie, regional manager, Pocono Northeast Ben Franklin Technology Partners of Northeastern Pennsylvania.
Registration for the workshop is free and a reception will follow. This is an in-person only event. Interested individuals are encouraged to register before April 24.