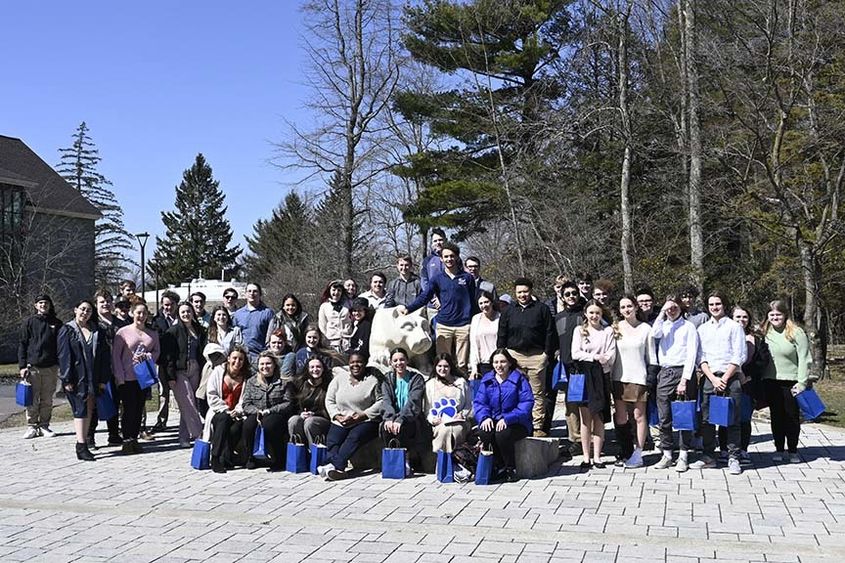 DALLAS, Pa. – Penn State Wilkes-Barre participated in the University's Startup Week held this year from March 20-24. Penn State Startup Week powered by PNC is a University-wide event held each spring that brings leading minds in entrepreneurship and innovation together in and around Penn State campuses across the commonwealth.
This year, the campus supported two events designed to inspire innovation and entrepreneurship.
The first, Where Do Great Ideas Come From?, was a free event held on March 21 at Wilkes-Barre's THINK Center in partnership with the Wilkes-Barre LaunchBox, Wilkes-Barre Connect, Diamond City Partnership and the Greater Wyoming Valley Chamber of Commerce.
LaunchBoxes are a Penn State initiative through Invent Penn State with the goal to stimulate economic development and job creation through signature business programming, partnerships and dedicated resources for startups, budding entrepreneurs and more.
The event at the THINK Center, part of the Chamber's Spotlight Series, featured a panel of experts in the startup field who shared their background and expertise on idea generation. Speakers were Ryan Hnat, owner of Northeast Art Project (NEAP); Kristopher Jones, Pepperjam/eBay Enterprises founder; and Krista Schneider, technical advisor at Pennsylvania Technical Assistance Program (PennTAP) in a panel moderated by Don Webster, executive director at TecBRIDGE. After the presentation, event participants spent time working in teams on an idea generation activity.
"Entrepreneurship and startup isn't just about starting your own business. It's also about making connections and developing the skills that can make you a successful entrepreneur," said Stephanie Gresh, assistant teaching professor of business and coordinator of the Wilkes-Barre LaunchBox. "We chose this panel to represent a variety of different perspectives and to show the power of making connections in your area."
Gresh continued, "Beyond connections, the success someone like Kris Jones has had in entrepreneurship demonstrates that someone can be incredibly successful in the northeastern Pennsylvania region. You don't have to leave the area to have success in your career. That's what we're doing with LaunchBoxes — providing assistance as we working to keep talent here."
The second event held by the campus during Startup Week was a competition for local high school students held March 22. The Future Business Leaders of America (FBLA) Region 16 Leadership workshop, sponsored by Penn State Wilkes-Barre's Business Club, brought more than 60 high school students from Pittston Area Senior High School, West Side Career & Technology Center and Hazleton Area High School to the campus.
Sessions for the event were "From Ideas to 3D Printing," taught by Gresh; "Utilizing 'My Next Move' Interest Profiler to Explore Potential Career Paths," led by Joseph Donahue, employer engagement and career specialist at Penn State; "The Secret to Digital Marketing Success," led by representatives by Coal Creative; a panel discussion featuring current Penn State business students, and an etiquette lunch-and-learn session overseen by Megan Senausky, academic and career counselor at Penn State.
"According to event surveys, students enjoyed the different sessions and FBLA event overall. The majority indicated that they would attend a similar event in the future because they learned more about business," said Lori Dunn, lecturer in business. "That is exactly why this type of event is needed. High school students should be exposed to different business disciplines to help them make future career and educational decisions."