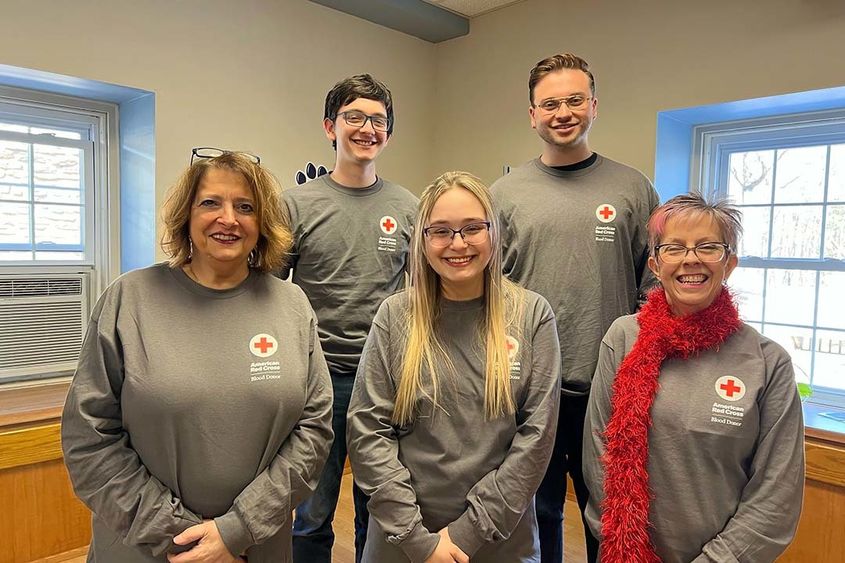 DALLAS, Pa. — Penn State Wilkes-Barre hosted a blood drive recently to raise money for THON while collecting units of blood to benefit others.
The blood drive was held in Hayfield House in partnership with the American Red Cross. Students, faculty, staff and local residents turned out to donate, including 11 first-time donors. About 78 patients may be assisted by the units donated at the Penn State Wilkes-Barre drive, according to John Vito Powell, coordinator of campus activities and student affairs. 
"The need for units of blood is so critical right now," Powell said. "This drive helped the Red Cross in getting blood donations for medical emergencies and the like, and we are also helping the Four Diamonds Fund in fighting childhood cancer by raising money toward their efforts through the philanthropy that is THON."
For each presenting donor at the drive, the Red Cross donated $4 to Penn State Wilkes-Barre's THON Committee, which holds events throughout the year to raise money. All proceeds from the events go toward the cause of helping children and families in their battle against cancer. The combined efforts of all Penn State campuses are celebrated at THON Weekend in mid-February every year, a yearly dance marathon where the grand total will be revealed to students, Four Diamonds families and volunteers. Screened donors also received a T-shirt and an entry for a chance to win a trip for two to Super Bowl LVII in Glendale, Arizona, on Feb. 12.
"I am so grateful for everything that the Penn State Wilkes-Barre community has done to help support THON and also the Red Cross," said Hailey Carey, primary chair for Penn State Wilkes-Barre's THON Committee. "I feel like by helping together, we also grow together."
The THON committee at Penn State Wilkes-Barre plans events such as the blood drive to raise money throughout the year. To donate to the committee's efforts to fight childhood cancer, visit the Wilkes-Barre THON Committee's DonorDrive page.