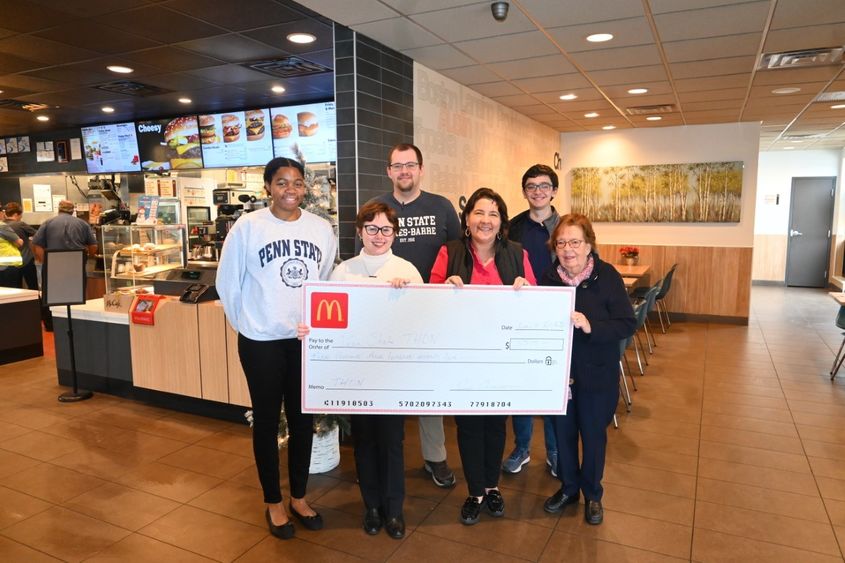 DALLAS, Pa. — With the help of the community, Penn State Wilkes-Barre's THON committee has raised more than $5,000 toward its overall goal this year as the committee works to help fight childhood cancer through the Four Diamonds Fund.
THON is the world's largest student-run philanthropy, raising awareness and providing both financial and emotional support to families impacted by childhood cancer. 
The Wilkes-Barre THON committee's fundraising goals are big this year, twice the amount of last year's, with an overall goal of $10,000 by Feb. 17. Between general donations through DonorDrive, an online donation website, and the students' fundraising efforts, the committee has raised a current total of $5,475.87, with more on the way from donors and through additional fundraising events.
Students on the THON committee work together to host events to raise funds while also informing the community about THON's mission and ways they can also get involved. All proceeds from the events go toward the cause of helping children and families in their battle against cancer. The combined efforts of all Penn State campuses are celebrated at THON Weekend in mid-February every year, a yearly dance marathon where the grand total will be revealed to students, Four Diamonds families and volunteers.
Throughout the fundraising year, the THON committee at Penn State Wilkes-Barre has hosted several events to raise money, recently expanding into the local community for collaborative efforts. In just one week, Penn State Wilkes-Barre and the McDonald's locations of Shavertown, Mountain Top, Hanover Township and Wyoming raised a total of $3,375 from french fry sales, with 25 cents from each large fry order donated to the cause.
"Our organization is proud to support the communities in which we do business," said Christina Curran, McDonald's manager. "THON's mission is such a great one and we are honored to be able to help make this year's fundraiser successful for Penn State Wilkes-Barre."
"I am still absolutely speechless from the fundraiser's outcome. I anticipated maybe a few hundred dollars, but never thousands," said Hailey Carey, primary chair of the campus THON committee. "The community really went above and beyond to help the cause."
The committee continues to fundraise up until THON weekend. This year, the committee will be attending THON along with Four Diamonds families and other Penn State students to celebrate the fundraising efforts, hear stories and enjoy performances.
Interested donors can join the fight against childhood cancer by donating to the Wilkes-Barre THON Committee's DonorDrive page.