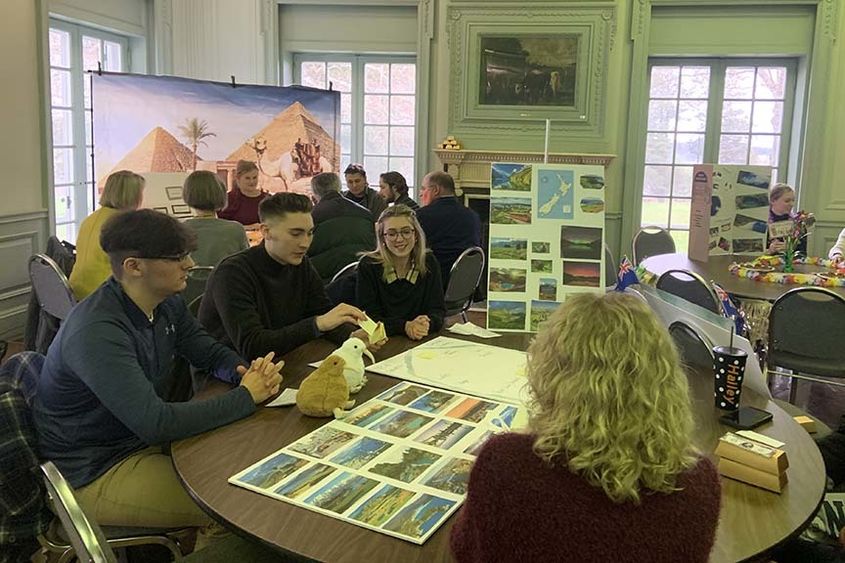 DALLAS, Pa. — Business students at Penn State Wilkes-Barre had two opportunities to present what they learned to a public audience during the late fall semester, demonstrating their knowledge and skills gained through the business program at the campus.
"Penn State Wilkes-Barre students are doing excellent work in the entrepreneurial space," said Stephanie Gresh, assistant teaching professor of business and coordinator of the IDEA Hub and other Invent Penn State initiatives. "The International World Café and the presentation students gave as part of the business administration class were examples of student-integrated course projects connected to Invent Penn State."
Invent Penn State is a commonwealth-wide initiative to spur economic development, job creation and student career success. Through this initiative, entrepreneurs are provided with free access to accelerator programs, coworking space, legal and IP advice, mentorship, rapid prototyping, pitch competitions and funding.
The International World Café was a special event on campus as part of Invent Penn State Global Entrepreneurship Week. During this presentation, nine Penn State Wilkes-Barre students in an international business course had the opportunity to create and operate a space featuring cuisine from around the world. Students set up tables that represented three areas of the world — Egypt, New Zealand and Samoa — and brought food and props to represent those areas.
Members of the campus community who attended the event were able to vote for which of the three areas they would consider doing business in. It also gave attendees the chance to learn about developed and developing countries. The event took place in person and was livestreamed, providing people across the commonwealth and the globe with a way to learn about the International World Café.
"These types of immersive real-world experiences are critical for student development and provide an opportunity for students to network and strengthen their résumés," Gresh said. "One of the key tenets of the Wilkes-Barre LaunchBox is to offer opportunities like this for students to participate in skill development, since being entrepreneurial is not just for those interested in starting a business."
During the second presentation, students in a business administration course taught by Theresa Clemente, assistant teaching professor of business and business program coordinator, demonstrated an entrepreneurial ecosystem map they created to members of the Greater Wilkes-Barre business community.
The students designed a user-friendly, interactive way of showcasing local organizations where an entrepreneur can find resources for startup success. They created a short video embedded in an ecosystem map, which can be used to help entrepreneurs identify relationships and networks within the community.
During the course of the project, students met with representatives from the Greater Wyoming Valley Chamber of Commerce to learn about the local entrepreneurial ecosystem. They also conducted research, learned about video production and developed valuable interpersonal skills including critical thinking, effective communication techniques, teamwork, an awareness of workforce needs and opportunities in the community, networking and more. Toward the end of the course, the students presented their project to partners from Invent Penn State, Diamond City Partnership and Wilkes-Barre Connect at the THINK Center.
"Local entrepreneurs have numerous resources to lean into in our community to help start and grow their businesses," Clemente said. "Wilkes-Barre Connect acts as a connector with those organizations to streamline the entrepreneurial process and allow entrepreneurs to gain access and referrals to those resources all in one place. This course gave students the opportunity to learn more about local resources and opportunities as they created the ecosystem map."
After piloting the project in the fall 2021 semester, Clemente received a Teaching and Learning with Technology Faculty Engagement Award in the spring of 2022. The theme for this year's project was experiential virtual spaces that mimic the in-person active learning classroom environment. Elements included were a dynamic virtual environment, embedded live video or avatars, spatial sound and free movement around the space. She implemented experiential virtual spaces into this year's project by including a presentation gallery of student video work in Mozilla Hubs.
"Exploring the new working environments of tomorrow will better prepare students, particularly when working with clients," Clemente said. "The focus is on opportunities to help students for their future careers in business and to see the possibilities of virtual spaces for marketing and business purposes. I am proud of the students' professional presentations at the Think Center, and this opportunity will benefit students in their careers."