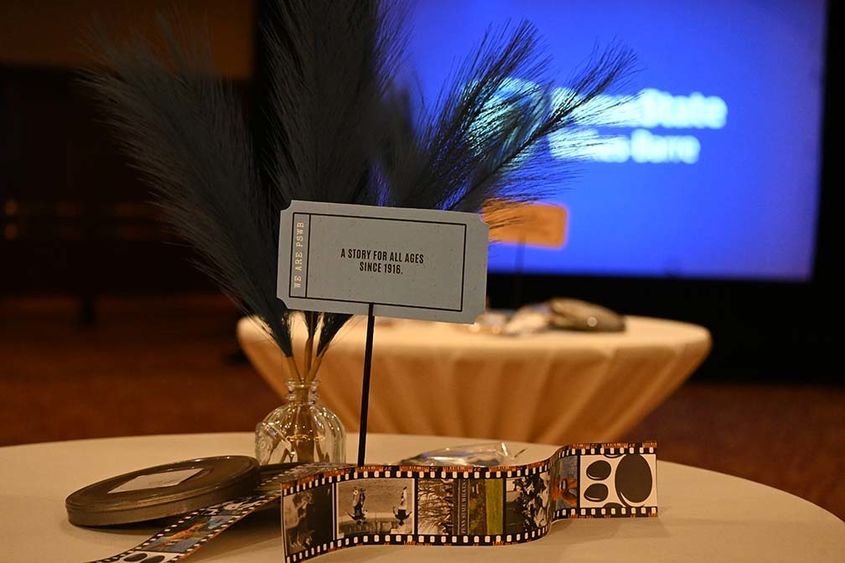 DALLAS, Pa. — Penn State Wilkes-Barre welcomed newly appointed Chancellor and Chief Academic Officer Lynda Goldstein during a special event held in downtown Wilkes-Barre on Oct. 18.
The event, held at the F.M. Kirby Center for the Performing Arts, also highlighted the campus' presence in the Wyoming Valley since 1916.
"The greater Wyoming Valley is Penn State proud with over 12,000 Penn State alumni. We are honored to welcome Lynda and celebrate this area with so many of our community members," said Director of Campus Development Cara Green, who introduced Goldstein and welcomed guests, including campus supporters and Wilkes-Barre area government, business and civic leaders.
Goldstein thanked those in attendance, emphasizing Penn State Wilkes-Barre's community ties and benefit to the region.
"As the first institution of higher education in the Wyoming Valley, Penn State Wilkes-Barre's ties to this community run deep and strong. The campus was started by two local Penn Staters in response to the changing needs of the local anthracite industry and has continued to evolve throughout our 106-year history," she said. "Penn State Wilkes-Barre started in this city, and we are here to stay. We are excited to reignite the partnerships with all of you to build our collective future together."
The event featured a film theme as a nod to Goldstein's love of cinema and the film studies courses she has taught. Posters styled as classic films, which were designed by Penn State Wilkes-Barre Marketing Communications Specialist Alyssa Ellsworth, promoted the academic programs offered at the campus, including surveying engineering, corporate communication and information technology. Tables were accessorized with rolls of film of Penn State Wilkes-Barre along with tickets that displayed facts about Goldstein and the campus. A video was played that showed Goldstein driving through downtown Wilkes-Barre while saying hello to notable people along her route, including Mayor George Brown.
Goldstein began her role as chancellor and chief academic officer of the campus on Aug. 1 after serving as interim chancellor since earlier this year. She has spent her career of more than 30 years at Penn State Wilkes-Barre, beginning as an English instructor in 1991, and has taught courses in English, literature and film along with interdisciplinary courses in American studies, integrative arts and women's studies. She is also associate professor of English and women's studies.