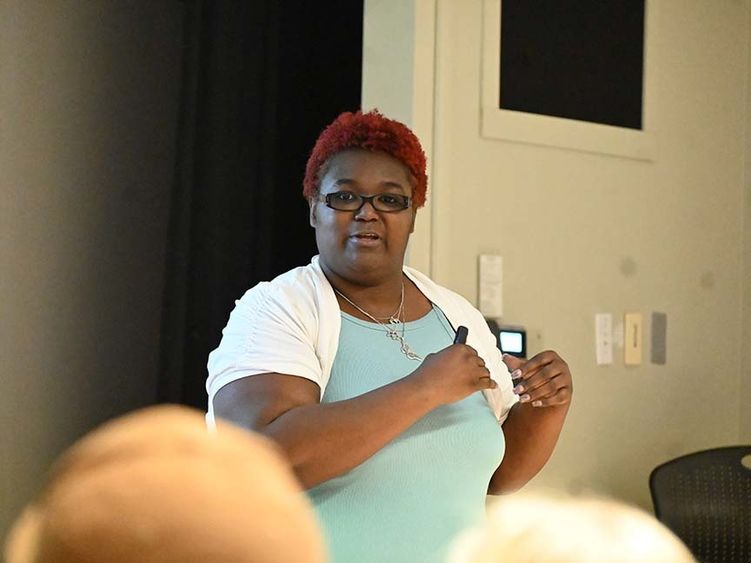 DALLAS, Pa. — Penn State Wilkes-Barre hosted a panel discussion titled "Women in Law Enforcement: Women's Success and Challenges in Navigating Non-Traditional Roles." The event, held in person and also livestreamed, featured three women who work in law enforcement sharing their experiences.
Speakers for the panel were Iris Richardson, director of diversity, equity and inclusion, Penn State University Police and Public Safety; Lisa Layden, chief of police, West Hempfield Township, Lancaster County; and Nadin Spieß, German federal agent. Richardson and Layden spoke in person, while Spieß appeared via Zoom from Germany.
Rebecca Sarver, assistant teaching professor of criminal justice and program coordinator for criminal justice, organized the program.
"I have always had an interest in how women navigate nontraditional jobs, stemming from my own experience in the military 30 years ago," Sarver said. "After I assembled this panel, I was dismayed to learn that women are still struggling to be seen as an asset to the law enforcement field. While we have made strides, we still are not on equal footing. I believe that law enforcement should enlist male officers to say something when they see an injustice or harassment of a fellow female officer occurs. This would go far in making a cultural shift."
Richardson, who oversees 22 campuses in her role with Penn State, said diversity, equity and inclusion is a newer career path within law enforcement. She spoke about Penn State's commitment to the 30X30 Pledge, a national initiative that aims to have 30% of police departments be made up of women by the year 2030.
"Research suggests that women officers use less force and less excessive force, are perceived by communities as being more honest and make fewer discretionary arrests, especially of non-white individuals," Richardson said. "Currently, there is only a 12% rate of women in law enforcement and only 2% as high-ranking officers. We need to get that number up."
She said Penn State University Police and Public Safety has an employment rate of 16% female, with 7% in higher-ranking positions. While the University is above the national average, she said it is still necessary to continue to recruit and retain female officers.
Layden has spent 27 years in policing, working her way through the ranks to her current role as chief of police, becoming the first woman in Lancaster County to hold the position. She earned her doctorate recently after completing her doctoral dissertation on the topic of women in policing.
"The fields of law and medicine until the 1970s were extremely male dominated. That's changed in those fields over the last 30 years, but policing has seemed to stay there," Layden said. "I wanted to look at the reasons behind that. For my dissertation, I interviewed 45 female law enforcement officers in six different states. When I analyzed the data, I found gender discrimination was still very pervasive. Hiring practices need to change, especially in promotion and specialization."
She said the overall image of policing doesn't appeal to many women and that women in law enforcement often struggle with policies that she termed "family unfriendly."
"When I looked at police recruiting videos on YouTube, most were very militarized and seemed to indicate you're on a SWAT team every single day. Are those the kind of people we want to attract to policing?" Layden asked. "Police leadership, municipal leadership and community groups as a whole need to look at what we really want our police to be doing. Women tend to approach things in a different way, using communication more than aggression and force."
"Pennsylvania has no mandated maternity leave. This is definitely an area that limits women in policing. Sometimes they are at a point in their career when they feel like they have to choose between having a family and having a career," she continued. "This is about men and women. If we really care about the people we hire, we need to have time off for fathers and families to let them have a family and be happy and healthy."
Spieß presented her viewpoint as a female in law enforcement in another country, giving an overview on the different policies in Germany. She works in the threat assessment unit of the Bundeskriminalamt, or BKA, in the Federal Criminal Police Office, which specializes in Islamic terrorism and is based out of Berlin.
"We have quite different structures in Germany than you do in the United States," she told attendees. She explained a law that was passed in 2001 to promote equality in the federal government sector. The law requires females to be involved in every personal, organizational and social decision made by a federal government agency. It also requires provisions for different work time arrangements, supporting women with their re-entry into the job after a parenthood leave, and specially equipped rooms for parents and their children for short-term situations.
"We have many women working in part-time positions. There are no disadvantages allowed for part-time employees," Spieß said. "We also implement mentoring programs to build up women who are interested in taking leadership positions. We try to motivate them to take those positions and find their way to a career in law enforcement."
As a result of the law, the number of women in the BKA has increased in almost all jobs and career tracks, she said. However, there is still significant underrepresentation in leading positions. The BKA has begun to look into when and where women lose interest on their way to leading positions.
"I have had the opportunity to have a good family life because we have a law that allows me to do this," Spieß said. "It's a very comfortable situation for women in federal administration in Germany. Women in other fields don't have the freedom to choose part-time work, and this law does not apply to the private sector."
At the conclusion of the panel, attendees were able to ask questions of the presenters. The presenters answered questions about career paths in their fields, challenges they have encountered and the benefits of a criminal justice degree, among others.