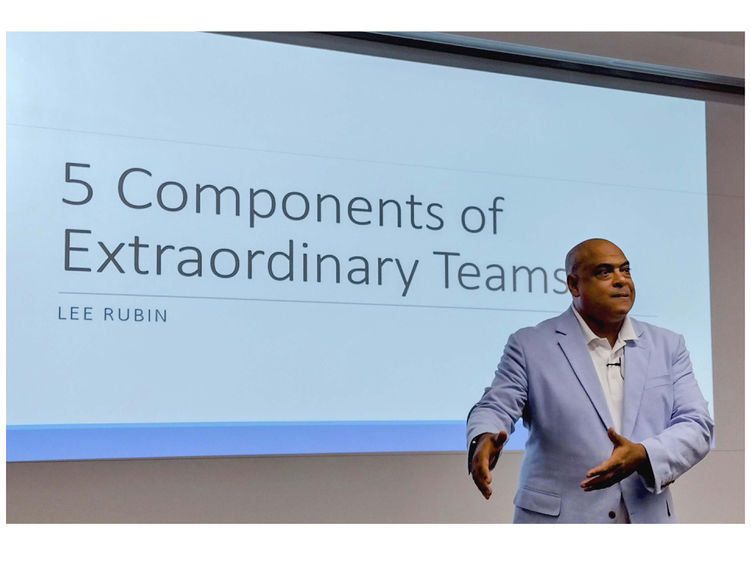 DALLAS, Pa. — Penn State Wilkes-Barre held its annual fall campus meeting prior to the start of the fall semester, gathering faculty and staff to begin the new academic year with vigor. Penn State alumnus and former football standout Lee Rubin was the featured speaker for the event.
During the meeting, Chancellor Lynda Goldstein spoke with faculty and staff members and shared various campus updates. New employees were introduced and those in attendance were able to enjoy a continental breakfast and greet new and returning colleagues.
"I am grateful every day that I get to work with such dedicated faculty and staff," Goldstein said. "Events like this help us get to know each other better and continue our professional learning to help us serve Penn State Wilkes-Barre students in the best possible manner."
Rubin's keynote address, "5 Components of Extraordinary Teams," focused on five "Cs":
Extraordinary teams are comprised of competitors
Extraordinary teams work toward a common goal
Extraordinary teams communicate, communicate, communicate
Extraordinary teams have chemistry
Extraordinary teams are consistent
Rubin was born in Honolulu, Hawaii, and raised in central New Jersey. A Penn State graduate with a bachelor's degree in speech communications and a minor in business, Lee played football for the Nittany Lions. He was a three-year starting free safety and captain of the team.
He has been a corporate human resources professional with Fortune 500 companies for nearly 15 years and is a frequent keynote speaker at corporations and conferences throughout the country. 
Earlier this year, Rubin presented "5 Cs of a Championship Culture" to Penn State employees during a training over Zoom sponsored by the University Staff Advisory Council. After seeing his engaging presentation, members of the Penn State Wilkes-Barre Professional Development Committee approached Goldstein about bringing Rubin to campus to share his expertise on team building and peak performance.  
"Lee is an excellent communicator and his recipe for teamwork is incredibly relatable," said Assistant Teaching Professor of Chemistry Adriana Dinescu, who began teaching at Penn State Wilkes-Barre this semester. "It was a delight to learn how to become more successful by focusing on a few key components that bring people together and make us more aware of what needs to be done. I will always think about the 5 C's in and out of the classroom, but what struck me the most was the universal significance of these five principles that apply to all aspects of life."