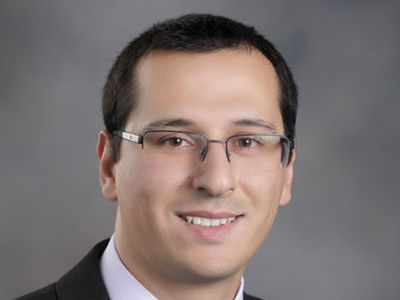 Dimitrios Bolkas, associate professor of surveying engineering at Penn State Wilkes-Barre, has received the 2022 University College Faculty Scholar Award, which honors a University College faculty member who has demonstrated excellence in research, scholarship, and/or creative accomplishments.  
"I am honored to receive this award. It signifies an appreciation for the work I have done and a recognition that my research has been important," Bolkas said. "It also gives my students the assurance that our surveying engineering program conducts high-quality research. They know that as part of their student experience, they will have the opportunity to publish in high-quality journals and participate in national and international conferences."
The UCFSA is an inclusive award that is awarded to a full-time or part-time faculty member in recognition of significant and sustained contribution of research, scholarship, and/or creative accomplishments accumulated during their employment at Penn State; research, scholarship, and/or creative accomplishments with undergraduate students; research, scholarship, and/or creative accomplishments completed during the three previous academic years; or research, scholarship, and/or creative accomplishments that has or have had a significant impact on the recipient's academic field of study. As the winner of the award, Bolkas will receive a plaque and a $1,000 stipend.
In a letter supporting Bolkas for the award, Penn State Interim Chancellor Lynda Goldstein wrote, "Dr. Bolkas has made significant research contributions to his discipline, surveying engineering, publishing in high quality journals and presenting at both national and international conferences, with the frequent contributions of collaborators, including undergraduate students, some of whom are in disciplines outside of engineering.
"The impact of Dr. Bolkas's scholarship is easily measured by the quality of his publications, but it is the impact on undergraduate students that is most impressive on such a small campus: these students not only gain the knowledge and experience necessary to enter the industry for employers such as PennDOT or the National Oceanic and Atmospheric Administration, but they participate in research that benefits all students in the classroom," Goldstein wrote.
Bolkas joined the Penn State Wilkes-Barre faculty in 2016 and received tenure in 2021. He holds a doctorate in geological sciences and engineering from Queen's University in Kingston, Ontario. He earned his bachelor's and master's degrees in surveying engineering from the Aristotle University of Thessaloniki, Greece.
His work has appeared in several peer-reviewed scientific journals and he has presented at various international scientific meetings. Bolkas is attending two international conferences this summer: the International Society for Photogrammetry and Remote Sensing's annual congress in Nice, France, and the Joint International Symposium on Monitoring's yearly symposium in Valencia, Spain.