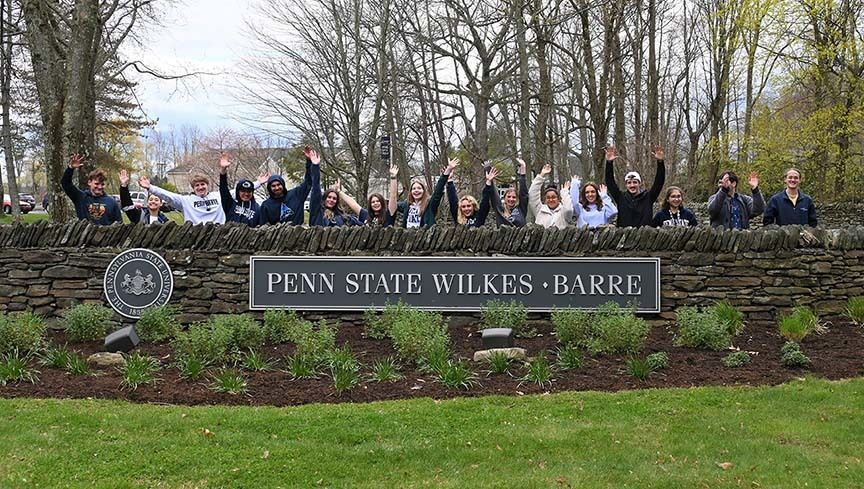 Sustainability is a top goal in Penn State Wilkes-Barre's strategic plan, and the campus Sustainability Council is helping share knowledge and plan activities to meet that goal.
Assistant Teaching Professor of Business Erin Brennan serves as faculty chair of the Sustainability Council, which was founded in October 2020 and is composed of faculty and staff on campus.
"Our campus strategic plan prioritizes sustainability as one of three pillars, and the council has begun to take action in furtherance of that goal," Brennan explained.
The council focuses on sharing information about sustainability and actions that individuals can take to work toward a more sustainable future. A webpage and monthly email help inform the campus community and provide a way for others to share their own sustainability efforts so the council can bring awareness to those efforts. The council also partners with faculty members to identify courses in which sustainability is a component.
Student involvement, as with many programs at Penn State Wilkes-Barre, is a key component of sustainability initiatives on campus.
"The students are great. We have a student-run Sustainability Committee that helps us reach our sustainable goals as well," Brennan said. "Our Student Government Association planned a roadside cleanup on Hildebrandt Road in April. They all did a good job cleaning up the road, which even moved the efforts off campus and into our community."
Students also participated in a sign beautification project to improve the look of the entrance sign to Penn State Wilkes-Barre.
"Our sign is on a beautiful stone wall that fits the character of our campus but had no landscaping and didn't look very visually appealing," Brennan said. "As a campus, we discussed a way to brighten that up through the lens of sustainability."
The project was tied to the SUST 242N (Issues in Sustainability) course taught by Brennan and her sister, Associate Teaching Professor of English and Assistant Chief Academic Officer Ann Brennan.
"This was a curriculum-based, student-driven project shaped by our students," Erin Brennan said. "Students worked with a local landscaper to learn about sustainable landscaping and plants. They chose native plants that would be pollinators and also deer resistant."
Students presented their ideas and developed a plan with local landscaper Randy Bond of Rave Landscaping, whom they learned was a Penn State alumnus during the project. The new sign area was unveiled at an event featuring the Nittany Lion and Creamery ice cream and where students spoke about what they learned and how it relates to sustainability.
"They encouraged others on campus to use the project as a model for framing future projects through the lens of sustainability," Brennan said. "We laid this project out as part of the course and the students really embraced it. Without them, we wouldn't have had it."
Faculty members are helping the Sustainability Council identify other courses with a focus on sustainability initiatives. First-year seminar courses at Penn State Wilkes-Barre now include sustainability as part of the curriculum, allowing students to begin to learn about sustainability from their first days on campus.
Another initiative the council participated in this semester was the Colloquium on the Environment, a virtual presentation sponsored by the Sustainability Institute at University Park. Each year, the event features a leader in the field. This year, the speaker was L. Hunter Lovins, president and founder of Natural Capitalism Solutions. A renowned author and champion of sustainable development for more than 35 years, Lovins has consulted on business, economic development, sustainable agriculture, energy, water, security and climate policies for governments, communities and companies worldwide.
Penn State Wilkes-Barre also participated in an Earth Hour lantern display spearheaded by University Park. For Earth Hour, people are asked to pledge their support for responsible energy usage by turning off all electricity for an hour.
"Our students, faculty and staff made pledges that someone at University Park put on lanterns with our information," Brennan said. The lanterns were then lit during an evening event on the Old Main lawn.
To share information about sustainable initiatives at Penn State Wilkes-Barre, visit wilkesbarre.psu.edu/about/sustainability to complete the Sustainability Events/Initiatives Form.
"We can connect members of the campus community to resources at the Sustainability Institute and follow up with them to help educate others about what they are doing," Brennan said.