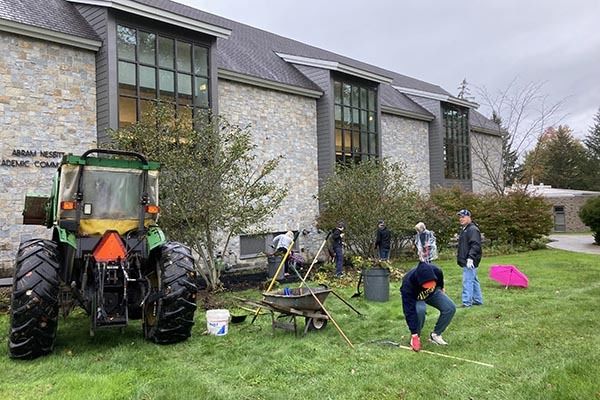 Penn State Wilkes-Barre is taking steps toward a more sustainable future by introducing a Sustainability Council. The council is composed of six faculty and staff members.
The Penn State Wilkes-Barre Sustainability Council's mission is to create a campus community that prioritizes sustainability. Primary to this mission is the education of campus and community members on sustainable practices. Sustainable development is defined as economic development that is conducted without depletion of natural resources. The council is co-chaired by Erin Brennan, assistant teaching professor of business, and Sean McHale, director of business services.
"Sustainability is now a part of the First Year Seminar curriculum. Faculty have been provided with standardized sustainability language to include in course syllabi as a way to emphasize both the priority and the broad application of sustainability," said Brennan.
In addition to incorporating sustainability into the curriculum, Penn State Wilkes-Barre's Sustainability Council aims to take action on campus and within the community. The council held its first campus cleanup on Oct. 22. Students, staff and faculty gathered to pull weeds and add mulch to the garden beds surrounding the Academic Commons.
As a response to international climate concerns, Penn State established the Sustainability Institute in 2013. By embracing Penn State's values of Integrity, Respect, Responsibility, Discovery, Excellence and Community, the Sustainability Institute aims to promote sustainable action across the Commonwealth Campuses and the community as a whole.
In 2015, the United Nations set forth the 2030 Sustainable Development Agenda, a plan to create and ensure peace and prosperity for people and the planet, both now and for the future. The plan is based around the 17 Sustainable Development Goals. The goals focus on society, environment, culture and economy. As a result, Penn State adopted the framework of the sustainable development. The University established a strategic plan to ensure the integration of sustainability into Penn State's education programs and community outreach and to each of the Commonwealth Campuses. Penn State Wilkes-Barre's Sustainability Council aims to promote sustainable action through collaboration, education and leadership.
"The Wilkes-Barre campus needs to be proactive with sustainability and be all inclusive for students, faculty and staff to participate in these activities during their time on campus," McHale said.
"There is an urgency and need to change the culture for sustainability to provide awareness," McHale said. "This movement can improve our welfare and environment. Every little bit of change in a positive manner will hopefully change the way people think and act."
During the upcoming spring semester, the council will introduce a campus project as a part of the SUST 242N course, provide educational presentations to campus leadership and launch an email campaign to inform students, staff and faculty about simple steps one can take toward living more sustainably. The council will also serve as Penn State Wilkes-Barre's campus representative at the Spring Sustainability Plenary Forum hosted by the Sustainability Institute at University Park. At the forum, the council will present its strategic plan for integrating sustainability into campus life.
"We hope that every person on campus realizes the value and importance of his or her actions and feels confident to share how those actions contribute to our sustainable future," Brennan added.
Learn more about the Sustainability Council and Penn State Wilkes-Barre's sustainability efforts.