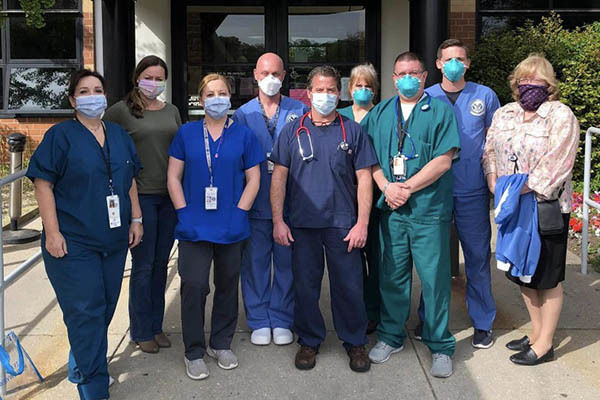 Yuri Pelepko-Filak, who recently took a managerial position at the Wilkes-Barre VA Medical Center, credits his nursing management certificate from Penn State Wilkes-Barre with preparing him for his new role. Pelepko-Filak earned a promotion shortly after completing the certificate program.
The Nursing Management Certificate program, offered through Penn State Wilkes-Barre Continuing Education, features four three-credit courses designed to enhance the career opportunities for currently licensed registered nurses who are working in nursing. The courses provide knowledge of basic health care organizations and administration; collection, analysis and management of nursing data; concepts and techniques for managing nursing personnel; and concepts and techniques for enhancing nursing managerial behaviors.
Pelepko-Filak, who lives in Dallas, Pennsylvania, received the certificate as part of the 2020 cohort along with his brother, Nikolai. A graduate of Holy Redeemer High School, Yuri Pelepko-Filak earned a bachelor's degree in nursing from Misericordia University. While working toward his degree, he completed an internship at the VA Medical Center and has continued to work there since graduation.
He served as a nurse in a variety of units, including intensive care, progressive care and emergency room. For four years, Pelepko-Filak worked at the VA Medical Center during the day and at night in the Geisinger Wyoming Valley emergency department as a per-diem nurse, logging 17.5-hour days.
In late 2017, Pelepko-Filak began a new role as a nursing supervisor in the VA Medical Center's Community Living Centers, the facility's long-term care area. As he began his new position, a colleague and his supervisor both recommended Penn State Wilkes-Barre's nursing management certificate program.
"When I came to the manager spot, another manager had finished the certificate the prior year. He said it helped him learn the basics of management and all the nursing aspects of it and covered all the necessary bases," Pelepko-Filak said. "Going for the certificate made me feel I was going to be more prepared, which was definitely helpful at that point."
His supervisor, Linda Zaneski, national program manager of Community Living Centers, also saw the value in Penn State Wilkes-Barre's program.
"I felt the program would be a great opportunity for him to further develop his management skills in all areas of nursing leadership," she said. "Yuri already possessed the necessary skills to manage a team and nursing unit, but being able to concentrate on specific areas in depth, along with discussion with his peers in the class, only enhanced the learning."
Pelepko-Filak said he learned a great deal from his instructor, Mary Tencza, and his fellow students.
"Mary was very open with her life experiences in nursing and provided real-world examples of whatever topic we were covering," he said. "It was a nice group and a good experience to get different perspectives of other individuals, including their new management experiences and front-line experiences. If we had any issues in our positions, Mary encouraged us to bring it to class so we could walk through it together."
In the early days of the COVID-19 pandemic, Pelepko-Filak joined fellow VA staffers to provide assistance to staff at a state-run long-term facility in New Jersey. Through the VA's Disaster Emergency Medical Personnel System, VA employees from all over the country had the opportunity to volunteer and provide support to parts of the country that had high numbers of COVID cases.
"At the VA, one of our core commissions is to help the community. When we showed up, we were immediately greeted with applause from the staff. They were so happy to finally get the relief they needed. One of their units had around 60 active COVID cases and virtually all the nursing care staff previously tested positive. We told them, whatever or wherever you need us, that's what we will do," Pelepko-Filak said. "The nursing home I was at was hit hard. For the first time, I saw a COVID unit and I saw people die from COVID."
During his time at that facility, he helped care for patients, dispensed medication and assisted with paperwork. He said that in addition to helping other medical professionals, the experience taught him important lessons on how to control the spread of the disease.
"It gave me a good baseline knowledge of COVID. I was able to bring back what I learned to our facility to help put in a lot of safety measures to make sure we didn't get to that point of what I saw," he said.
In addition to that experience, Pelepko-Filak has continued to learn and grow throughout his career. After completing the program at Penn State Wilkes-Barre, he returned to school for his master's degree in nursing in management and leadership, encouraged by Tencza. In February of this year, Pelepko-Filak took a new role as associate chief of nursing for geriatrics and extended care at the Wilkes-Barre VA Medical Center.
"The program gave some future leaders, such as Yuri, the needed skills to advance in their career," Zaneski said. "Yuri's promotion was well deserved based upon his demonstrated performance, strong leadership skills and proven results."
In his new role, Pelepko-Filak manages the long-term care area and extended care services, including home-based primary care. He oversees a staff of about 120 people who are caring for between 50 and 100 patients at a time.
Penn State Wilkes-Barre is enrolling for a new cohort for the nursing management certificate, with classes beginning June 30. With sufficient enrollment, the program can also be offered on-site at a company location. For more information or to register, contact Penn State Wilkes‑Barre Continuing Education at 570‑675‑9253 or [email protected].
"Leadership is a skill for any role. Our program has been specifically designed for registered nurses who are nurse managers or who want to attain a nurse manager position," said Penka Farina, education programming specialist at Penn State Wilkes-Barre. "If you are interested in leadership and management and you are a licensed RN, this is the program for you."