Coach Leshawn Hammett notches 150th career win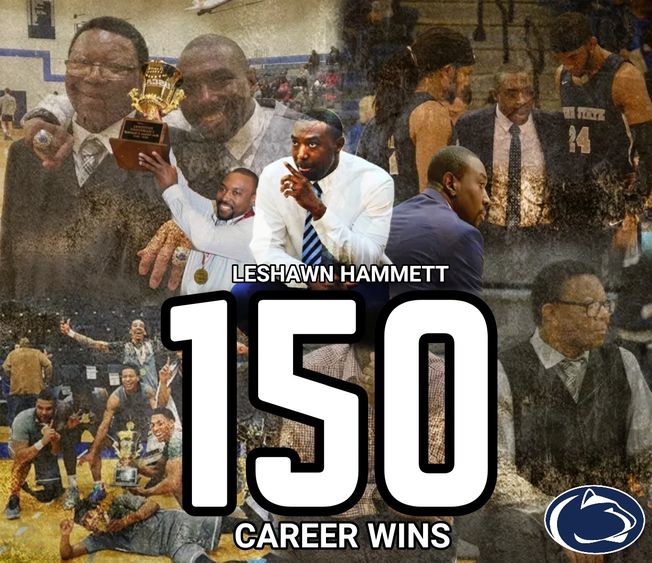 DALLAS, Pa. — Penn State Wilkes-Barre's men's basketball team is currently ranked No. 2 in the United States Collegiate Athletic Association's (USCAA) Division II Coaches Poll.
The team attained the ranking each week for the first three weeks of the season.
This is the second time in the team's history to rank this high. During the 2019-20 season, Penn State Wilkes-Barre was ranked No. 1 for three weeks. The team has been ranked No. 1, 2 and 3 during the last two seasons.
"It means a lot to earn this ranking," said Leshawn Hammett, head men's basketball coach. "The players have committed themselves to working hard and really getting after it daily on and off the court. So for them to see their hard work paying off is really great. They have earned the right to be called No. 2 in the country. I believe we're No. 1 but that's up to the poll committee."
When Hammett and his staff took over the program, the team was unranked and had a 64-62 record over five years. In the five and a half years since he has been leading the team, the squad has a 104-50 record.
"On a personal level, the ranking is gratifying," Hammett said. "To see where this program has come in the last five and a half seasons is amazing. It's definitely a blessing to look back and see how far we've come over the five years to be ranked and have so many wins."
Hammett recently notched his 150th career win at home Nov. 30 against Penn State Brandywine.
"The win was great. It was a humbling moment," he said. "I started this coaching journey almost 10 years ago, and to be at 150 wins overall and 100 here at Penn State Wilkes-Barre is amazing."
He thanked the players and staff members he works with, saying, "I wouldn't be here without the student-athletes. I've coached some really good players and we've done some amazing things. It's not just my success, but the success of the players I've coached and staffs I've worked with as well. So for us all to share this moment makes it even more amazing. I'm motivated and looking forward to 200 wins now."
Penn State Wilkes-Barre's men's basketball season starts with preseason action in October. Games are played November through March.
In 2019, the team was named USCAA national champions and Hammett received National Coach of the Year honors. The team was the regular-season conference champion for the Penn State University Athletic Conference in 2018 and 2019 and made appearances in the USCAA national tournament in 2017, 2018 and 2019.