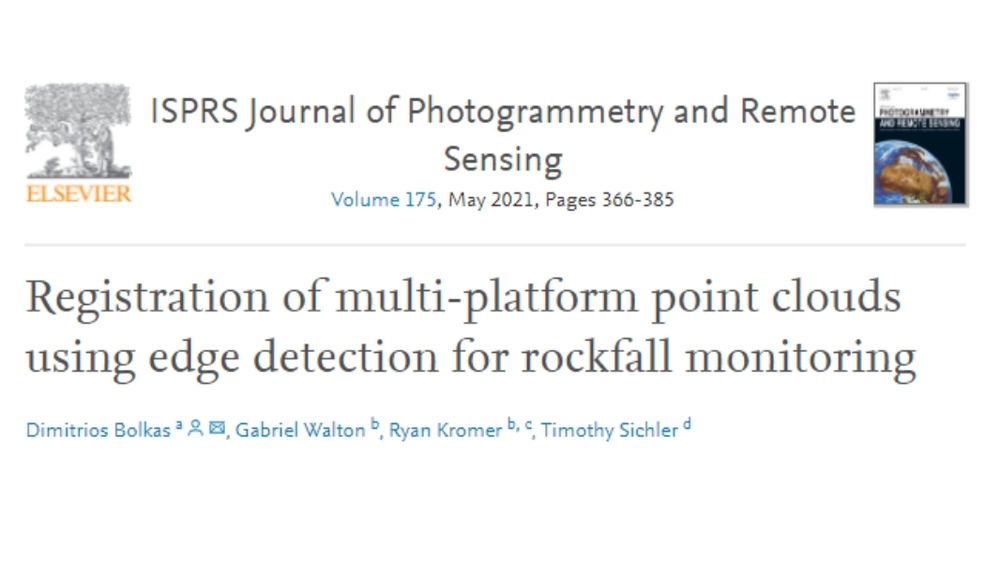 LEHMAN, Pa. — A description of a project completed by Penn State Wilkes-Barre's engineering departments recently was published in an international journal serving thousands of scientists and professionals with focuses in photogrammetry, spatial information systems, remote sensing, computer vision and related fields.
"Registration of multi-platform point clouds using edge detection for rockfall monitoring" was published in ISPRS, the official journal of the International Society for Photogrammetry and Remote Sensing.
This project was led by Penn State Wilkes-Barre's Dimitrios Bolkas, assistant professor of surveying engineering, and Timothy Sichler, assistant teaching professor of electrical engineering technology, in partnership with Gabriel Walton and Ryan Kromer of the Colorado School of Mines. Penn State Wilkes-Barre students John Chapman, Vincent Pavill IV and Claudia Leu also participated in the project and a data collection visit to Colorado in 2019.
"The paper in question focused on developing a new registration algorithm for multi-platform and multi-epoch point cloud datasets to support rockfall monitoring. When we monitor rockfalls using photogrammetric methods, we need to have targets on the rock surface. Placing such targets is expensive and dangerous. They get destroyed with time and we need to re-establish them," Bolkas explained.
"We wanted to create a method that can register the different point clouds in the same reference frame," he said. "Without accurate registration of multi-epoch point clouds, we cannot have reliable estimations of rockfalls."
Bolkas said the publication establishes Penn State Wilkes-Barre's commitment to research, education and the hard work of campus students, staff and faculty.
"It shows that quality of research is conducted in our campus. Moreover, our campus name becomes noticed in the highest academic communities," he said.
Penn State Wilkes-Barre offers the only four-year accredited surveying engineering program in Pennsylvania, one of fewer than 30 such programs in the entire nation. The program is one of nine bachelor's and four associate degree programs offered at the Wilkes-Barre campus.