March 30 virtual event, 'A Window to the Universe,' open to the Penn State community and the public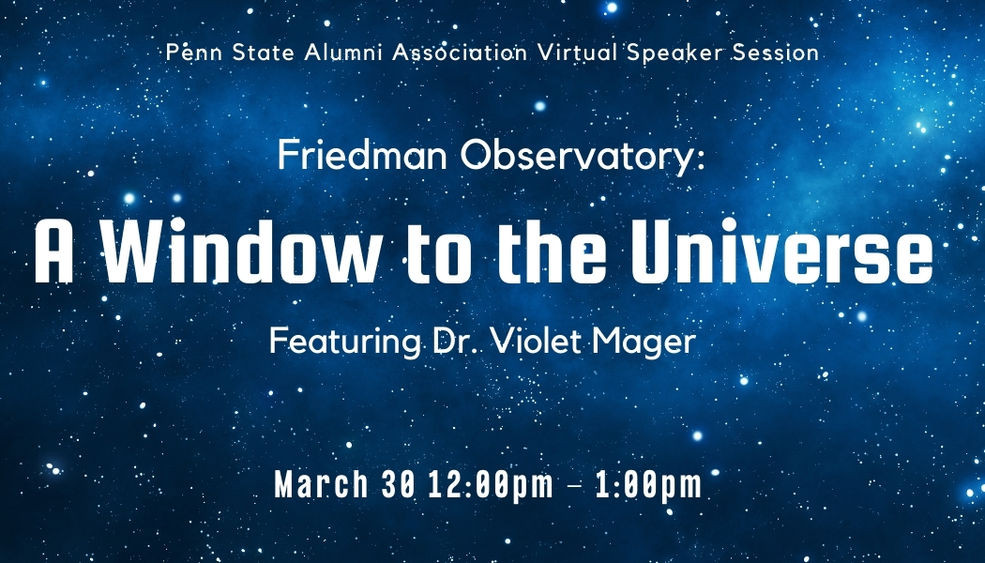 LEHMAN, Pa. — The Penn State Alumni Association is hosting a virtual speaker session on March 30 highlighting the Friedman Observatory at Penn State Wilkes-Barre. "A Window to the Universe" is part of a weekly discussion series created during the COVID-19 shutdown as a way to keep alumni engaged with the cancellation of in-person events. The presentation is open to the public.
The event's featured speaker, Violet Mager, serves as assistant professor of physics and astronomy at Penn State Wilkes-Barre as well as the director of the Friedman Observatory.
"A Window to the Universe" will be broadcast live on the Penn State Alumni Association Facebook page. The event will be held from noon to 1 p.m. on March 30. Pre-registration is not required but is encouraged. Click here to register.
"I will be briefly discussing the history of Friedman Observatory and the role it plays for the campus and the community. I will highlight some unique special events that were hosted by the observatory and discuss exciting new scientific research that is being done with its 16-inch Meade telescope," Mager said. A question-and-answer session will follow her presentation.
"I hope participants will gain an appreciation for the opportunities Friedman Observatory provides to the campus, the local community, and the overall pursuit of scientific knowledge," said Mager. "It is used to educate students, as well as the larger community through various special events and regular open houses that are free and open to the public. It has recently been used for student and professional research through collaborations with myself."
The Friedman Observatory has been open since 2003 and is the first observatory in the area. The Friedman family, longtime supporters of Penn State Wilkes-Barre, donated the funds needed to purchase the Meade 16" LX200 telescope housed within the building. The observatory offers students the opportunity to expand their knowledge and gain a better understanding of themselves and the universe.
Open houses are typically held every Friday, weather permitting. In-person, public observatory events are currently paused due to the COVID-19 situation, but Mager said they are planned to resume soon.