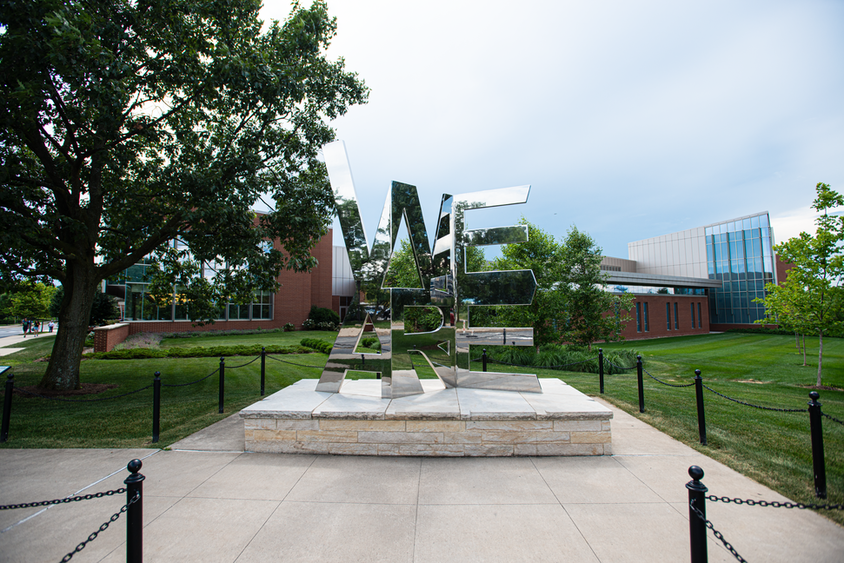 DALLAS, Pa. – Penn State Wilkes-Barre has announced the students named to its fall 2020 Dean's List. To be eligible, undergraduate students must achieve a one-semester grade point average of 3.5 or higher. The following students are being recognized for their academic excellence in making the list:
Donjeta Ahmetaj, Kingston
Amineh Al-Hawa, Kingston
Angelena Allen, Dallas
Britney Amigon, Mountain Top
Ian Atkinson, Wyoming
Aqeel Bacchus, Wilkes-Barre
Marin Bandalo, Inverness, Illinois
Austin Banks, Mountain Top
Logan Baseski, Shavertown
Elijah Bennett, Laceyville
Hailey-Marie Birkett, Wilkes-Barre
Jarod Blockus, Dallas
Mathew Bogue, Clarion
Kaylee Chaban, Kingston
Alijah Chamberlain, Shickshinny
Raymond Chitswara, Mountain Top
Joshua Christ, Pittston
George Chronowski, Falls
Rachael Cochran, Trucksville
Steven Coley, Dallas
Eyziak Cottle, Everett
Kristi Czyzykowski, Egg Harbor Township, New Jersey
Alexa Davis, Shavertown
Antonio DeNardi, Harding
Kelsey Decker, Plains
Bianca DiFebo, Nanticoke
Maggie Dow, Hunlock Creek
Darielis Duarte, Wilkes-Barre
Tyler Edwards, Forty Fort
Evan Elko, Pittston Township
Gregory Ellsworth, Factoryville
Ian Eviston, Wyoming
Hannah Farber, Yatesville
James Farrell, Wyoming
Edward Galonis, Pittston Twp
Paul Gestl, Pittston
Simon Girman, Dupont
Kaci Grabowski, Nanticoke
Nadine Green, Swoyersville
Ethan Halas, Hanover Township
Brystal Hardiman, Hunlock Creek
James Herceg, Shickshinny
Mackenzie Hixon, Blakeslee
Zachary Holthaus, Dallas
Gabriella Hontz, Shickshinny
Evelyn Hosey, Noxen
Noah Howe, Williamsport
Andrew Janosky, Dallas
Aidan Joyce, Pittston Township
Andrew Jubis, Shickshinny
Matthew Kaminski, Kingston
Kyle Koch, Benton
John Koval, Wilkes-Barre
Tannon Kraklio, Pittston
Luke Kreller, Sweet Valley
Verena Lake, Roseau, Dominican Republic
Christiana Leu, Harveys Lake
Claudia Leu, Harveys Lake
Charlie Li, Ardmore
Grant Loose, Kingston
Abigail Lubetski, Sweet Valley
Ryan Lubetski, Sweet Valley
Dillon Major, Shavertown
Hunter Malia, Hanover Township
Robert Mastropole, Mahopac, New York
Maxwell Materazzi-Hatala, Old Forge
Gurvinder Mathan, Forty Fort
Cloe Mazzatosta, Plains
Nicholas McGlynn, Pittston
Jahquan McIntosh, Edwardsville
Elisabeth Mead, Dallas
Andrew Menig, Dallas
Harry Miles, Wilkes-Barre
Seth Milich, Shickshinny
Blake Miller, Shickshinny
Jacob Miller, Lincoln Park, Michigan
Mira Miller, Kingston
Tyler Mitchell, Exeter
Benjamin Moody, Wilkes-Barre
China Morningstar, Wilkes-Barre
Kyle Moskaluk, Dallas
Justin Navedo, West Pittston
Samantha Nay, Ashley
Lesly Negrete, Brooklyn, New York
Cristina Orozco, Wilkes-Barre
Samantha Panagakos, Nanticoke
Henry Puchalsky, Trucksville
Jakob Razvillas, Kingston
Autumn Resauit, Swoyersville
Rachel Ricker, Dallas
Danielle Rittenhouse, Forty Fort
Juneil Ritter, Hughesville
Armando Rodriguez, Dallas
Juan Rojas, Wilkes-Barre Township
Alixsandria Rovinski, Exeter
Sehara Rowles, Tunkhannock
Gerald Rusek, Kingsley
Hallie Sanchez, Wilkes-Barre
Emma Sands, West Wyoming
Joshua Sanfilippo, Kingston
Chase Santayana, Luzerne
Erin Senese, Pittston
Jennifer Sgroi, Wyoming
Katelynn Sharp, Avoca
John Shaver, Dallas
Drew Shultz, Millville
Hannah Shultz, Dallas
Jaike Silverberg, South Abington Township
Veronica Smith, Kingston
Mason Sorber, Hunlock Creek
Joseph Stretch, Laceyville
Rafal Strzemecki, Wyoming
Robert Swida, Shavertown
Karol Szostak, Brooklyn, New York
Sara Tomsak, Exeter
Jack Van Horn, Lake Ariel
Kristopher Vanesko, Pittston
John Volansky, Benton
Illia Volkovinsky, Edwardsville
Joseph Vu, Exeter
Michael Walsh, Larksville
Steven Welsh, Bloomsburg
Sean-Paul Williamson, Wilkes-Barre Township
Abigail Winter, Harveys Lake
Ariauna Yaeger, Tunkhannock
Abigail Yatsko, Harding
Demetrius Yeager, Wilkes-Barre
Ayden Yoder, Milton
Benjamin Yozwiak, Plains
Jacob Yuhas, Forty Fort
Kendalyn Yurkin, Nanticoke
Daniel Zacharias, Monroe Township
Matthew Zasada, Swoyersville
Jenay Zelinka, Kingston
About Penn State Wilkes-Barre
Penn State Wilkes-Barre provides a Big Ten education with all the advantages a small campus has to offer. Students can choose the degree plan that's right for them, whether that's two years at home and two years at another campus to finish one of Penn State's 275+ degrees, or all four years at Penn State Wilkes-Barre. Eighty-five percent of students receive financial aid, including scholarships. Students will find caring faculty, undergraduate research opportunities, and experienced advisers to prepare them for the career they want.
Penn State Wilkes-Barre offers nine bachelor's degree and four associate degree programs, including the only 4-year accredited surveying engineering program in the commonwealth, one of fewer than 30 in the entire United States. Started to meet the needs of the anthracite coal miners in the area, Penn State Wilkes-Barre continues to serve the community through the addition of a new bachelor's degree in project and supply chain management as well as a minor in game development.  
To learn more about the campus or to schedule a visit, contact the admissions office at 570-675-9238 or visit wilkesbarre.psu.edu/admission.