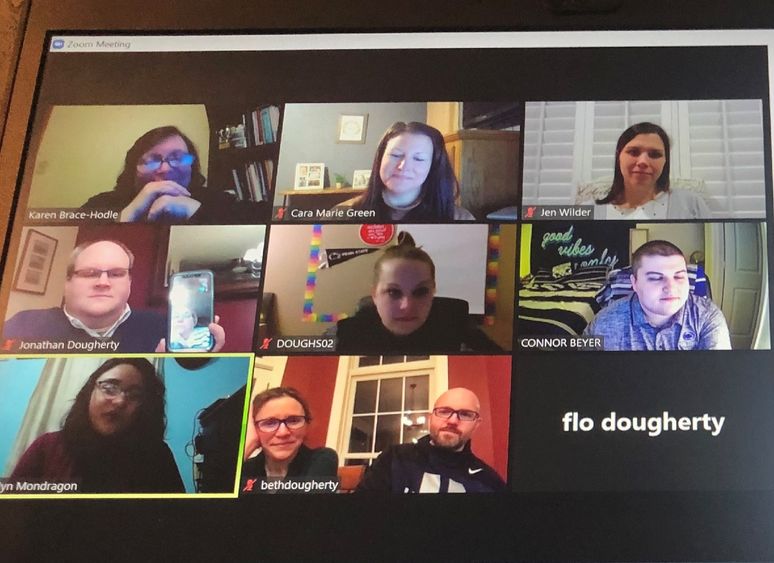 LEHMAN, Pa. — Although the COVID-19 pandemic has brought a disruption to in-person meetings and events worldwide, it has also brought virtual technology to the forefront and provided new connection opportunities.
Due to the pandemic, the Office of Development and Alumni Relations at Penn State Wilkes-Barre has begun coordinating virtual meetings between donors and student scholarship and award recipients, with the benefit of students and donors being able to meet wherever they live.
"Typically, we host a scholarship and award dinner each fall. However, because all in-person events were unable to be held last year and this semester due to the pandemic, we had to pivot," Director of Campus Development and Alumni Relations Cara Green said. "The virtual format allows donors and students a chance to still connect, regardless of their location."
The first meeting was held between the Dougherty family, who sponsors two awards at Penn State Wilkes-Barre, and the recipients of those awards, Connor Breyer and Joselyn Mondragon.
"The Doughertys shared why they created the awards at our campus, and the students shared what their educational journey has been and how the awards have truly changed their lives," Green said.
The Dougherty family – mother Florence and children Jonathan, David, Jennifer and Sarah – established the first award, Martin U. Dougherty Emerging Leader Award, after their husband and father, Martin Dougherty, was killed in a car accident on a family vacation in 2004.
"My father and all four of his children are Penn State alumni. It really is a family legacy for us," said Jonathan Dougherty, Penn State classes of 1999 and 2006. "When we were thinking about how best to honor him, we thought a great way to give back would be an award at Penn State Wilkes-Barre."
The family has forged close ties with the Wilkes-Barre campus over the years. Martin Dougherty served on the campus advisory board, and Jonathan took his place on the board after Martin's passing, serving for 13 years before becoming an emeritus member in 2017. Florence Dougherty worked for the Department of Health and Human Development at the University Park campus, and currently serves as president of the Wyoming Valley Chapter of the Penn State Alumni Association and an ex officio member of the campus advisory board.
"My mom celebrated a milestone birthday in 2019, and we made the decision as a family that it would be great to honor her with an award at the campus," Jonathan said. "My mom and dad had Penn State football season tickets since 1972 and she's a big Penn State fan, which is fitting that her award is titled the Florence C. Dougherty Pride of the Lion Award."
Green said, "The Doughertys are a Penn State family through and through and have been amazing supporters of Penn State and the campus. Martin Dougherty really believed in supporting the community, and that continues through Flo and his children."
The 2020 Martin U. Dougherty Emerging Leader Award was given to Joselyn Mondragon, a senior majoring in rehabilitation and human services. This award recognizes a junior who has at least a 3.0 grade point average and who has demonstrated excellence in scholarship, leadership, citizenship, service and character.
"As a first-generation college student, I wasn't sure what my future was going to look like or if I would ever be counting down the days to graduation," Mondragon said. "All I know is that I needed to build something for myself and be someone my family could be proud of. Once I heard about receiving this award, I knew that my hard work was paying off and being recognized. That motivated me to continue moving forward."
Connor Beyer, a junior majoring in health policy administration, was the 2020 recipient of the Florence C. Dougherty Pride of the Lion Award. This award is given to a sophomore, junior or senior in recognition of exemplary qualities of personal character, campus and university spirit and Penn State pride through active involvement in campus and community activities aimed at promoting Penn State Wilkes-Barre and/or the University.
"When I found out I received the award, I was filled with excitement," Beyer said. "I do my best to give back to Penn State and exhibit Penn State pride by being as involved as I can. That is why I was in as many clubs as I was and why I am the current chief of staff for the Council of Commonwealth Student Governments. Winning this award showed me that my Penn State pride is not unnoticed, and that I made a difference while at Penn State Wilkes-Barre."
The Dougherty family welcomed the opportunity to meet the students virtually. With the four siblings spread out in Maryland, New York and Virginia, attending in-person donor events was difficult and only Jonathan and Florence Dougherty had attended previously.
"My siblings have never participated in a donor event, so for them to have the opportunity through a Zoom call to meet these students and hear their stories and for us to share about my dad's legacy and mom's legacy was really beneficial," Jonathan Dougherty said.
Both students appreciated the opportunity to talk to the Dougherty family.
"Getting to know the story behind the award and what it means to them, gave it more meaning and made me proud to have been the one to receive it from the Dougherty family. Their smiles made me feel like I made them proud as well," Mondragon said. "This was the first time the entire Dougherty family was able to attend the meeting, and I think that was what made it special. It made me feel honored to part of this experience and I hope to cross paths with them again someday."
Mondragon plans to attend graduate school to study clinical mental health and become a licensed clinician.
Beyer said, "Getting to talk with the Dougherty family over Zoom was one of the highlights of the past year. It was a great privilege and honor to be given this award. I explained to them that especially since receiving the award, I have done my best to exhibit Penn State pride. I was glad that I was able to be one of the first, but hopefully not the last, of the award recipients to meet the entire family. It was also great to hear that they were proud of my accomplishments that live up the award's expectations."
Beyer plans to attend graduate school and pursue a master's degree in health policy or public policy with the goal of becoming a nursing home administrator.
The Office of Development and Alumni Relations plans to continue virtual donor-student meetings throughout this semester and beyond.
"We received such great feedback from the donors and the students that we are looking to continue the virtual aspect for years to come," Green said.