Curious about Penn State Wilkes-Barre? Come visit us and see if we're the right choice for you! There are many types of opportunities to do so—check out the "Come See Us!" box on the right to learn more. And bonus—there's NO application fee when you visit the campus!
Schedule a personal one-on-one visit with an admissions counselor. Find out about academic programs, the admissions process, campus life and financial aid. Student guided campus tours are available. View our calendar of available dates and register online.
To register for one of the upcoming events listed below, you can click its "Register Now" link, call us at 570-675-9238, or email wbadmissions@psu.edu.
We look forward to meeting you!
Upcoming Admissions Events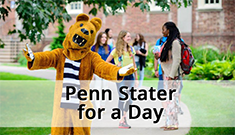 Be a Penn Stater for a Day
February 19th at 9:30 am ~ or ~
March 23rd at 9:30 am
You're invited to spend the day with us and experience what it's like to be a student at Penn State Wilkes-Barre! Experience a class, meet students and professors, learn about extra-curricular activities, and have lunch in the Hickory Court Café.
Register Now to be a Penn Stater for a Day on February 19th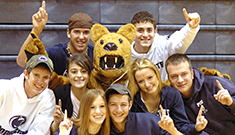 Spring Open House
March 18th at 6:00 pm
It's all about options and opportunities—earn a nationally recognized Penn State degree! Choose from several bachelor's and associate degree programs that can be completed right here at Penn State Wilkes-Barre. Or explore more than 275 degree programs where you can spend the first two years here, then complete your degree at another campus, including University Park and others. Meet faculty, staff, students, and alumni.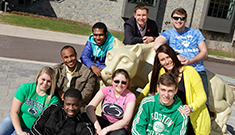 Scholarship Breakfast
April 4th at 9:00 am
The Scholarship Breakfast honors first-time Penn State Wilkes-Barre scholarship and award recipients. Learn about special academic and study-abroad programs.
Registration open February 24th for the April 4th Scholarship Breakfast (by invitation only)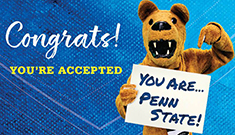 Accepted Student Reception
April 4th, 10:00 am–2:00 pm
Congratulations on your admission to Penn State! Join us for a special day where you will learn about your next steps; speak with alumni, faculty, students, and employers; tour the campus; and explore housing options.
Registration opens February 24th for the April 4th Accepted Student Reception (accepted students only)