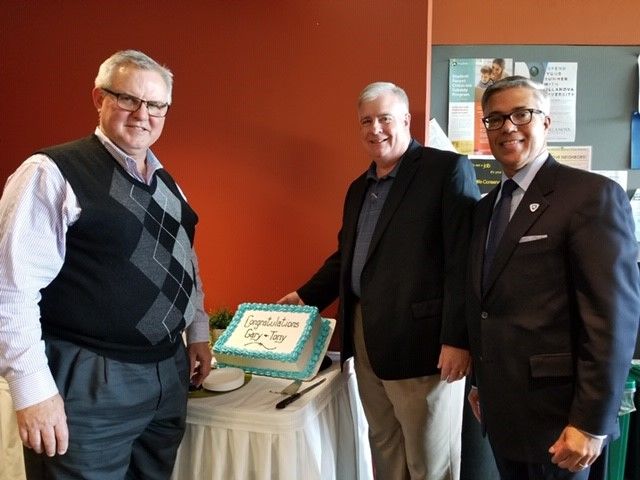 LEHMAN, Pa. — Penn State Wilkes-Barre recognized two employees who are retiring at the end of June.
Gary Beisel and Anthony Shipula were recognized at the spring campus meeting with gifts of appreciation and words from Chancellor Dale Jones.
Beisel, of Kingston Township, was honored for 31 years of service. He began his career with Penn State Wilkes-Barre as the coordinator of safety and security, serving as a University police officer, and advanced to director of business services, a position he has held for nine years.
During his tenure as director, Beisel has overseen the construction of the Struthers Family Career Services Center, the renovation of the former library to the current Murphy Student Services Center, a major parking lot renovation, and numerous room renovations and campus improvements.
Beisel plans to spend more time with his family and travel to Virginia to take in some of his granddaughter's tee-ball games.
Shipula, of Hanover Township, was recognized for nearly 11 years of service. Shipula is retiring from his position as director of development.
Shipula successfully led the campus through two capital campaigns: "For the Future" benefited Penn State students and included the Struthers Family Career Services Center at Penn State Wilkes-Barre, and the current "A Greater Penn State for 21st Century Excellence," having reached 120 percent of his goal with more than two years remaining in the campaign.
In retirement, Shipula looks forward to traveling with his wife, Chris, spending time with his grandchildren, and enjoying his pool.