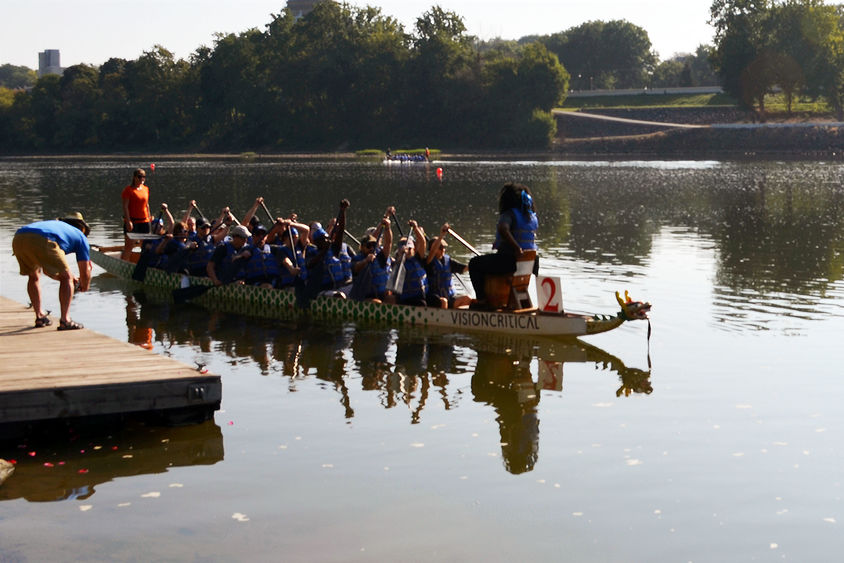 LEHMAN, Pa. — On an unseasonably hot September day, this past Sunday, Sept. 24, on the banks of Wilkes-Barre's Susquehanna River, a team of 19 people made up of students, faculty, staff, alumni and spouses, pitched their tents. They had been brought together by Penn State Wilkes-Barre Librarian Megan Mac Gregor to row for Penn State Wilkes-Barre in the 7th annual Dragon Boat Races hosted by the Riverfront Parks Committee. Besides Mac Gregor, Penn State Wilkes-Barre Library also was represented in the boat by John Owens, information resources and services support specialist, and Quentin Hugo, library student worker.
Dragon boats were originally used in ancient China as part of religious ceremonies appeasing the rain gods. Later a tradition of racing dragon boats was established as a memorial to the warrior poet Qu Yuan, who committed suicide in the Mi Lo River in protest against the political corruption at the time. The boats are painted to look like dragons — before the race a carved dragon head and tail are attached to the long canoe-like hull, which is painted with dragon scales.
The boats fit two rows of ten people down each side. The rowers' paddles act as the dragon's claws, propelling it through the water, with the help of a steerer on the back with a rudder paddle, and a drummer on a small high seat in the front, keeping the rowers in time. The beauty of dragon boat racing is that while strength and endurance are important, the real key is teamwork and harmony; making sure everyone is paddling in sync.
Penn State Wilkes-Barre's team drummer, student and winner of one of 2017's library scholarships, Amanda-Claudia Scott, had the added privilege of blessing the boats before the first race of the day. She poured river water over the head of one of the boats and sprinkled rose petals, while wishing everyone a safe and harmonious race.
Penn State Wilkes-Barre was one of six teams from various local organizations who participated in the race, a 200-yard dash between downtown Wilkes-Barre's two bridges. Each team participated in three races, going head-to-head with another boat, in an attempt to achieve the best time.
The 19 Penn State Wilkes-Barre rowers had a rough first race, losing to their opponents by less than a second. Engineering Instructor Tim Sichler stepped in with his rowing team experience, and made a change in the seating positions, and the team established a count. When the second race came, the team was ready, and set the fastest time overall. The team held it together for their last race, a tough, blood pumping heat against the Wilkes-Barre Family YMCA. It paid off — Penn State Wilkes-Barre finished with a time of 33.84 seconds, and the Wilkes-Barre Family YMCA, last year's champions, came in at 34.15 seconds.