Andrew Muirhead, Lufthansa Technik vice president, addresses corporate intrapreneurship in keynote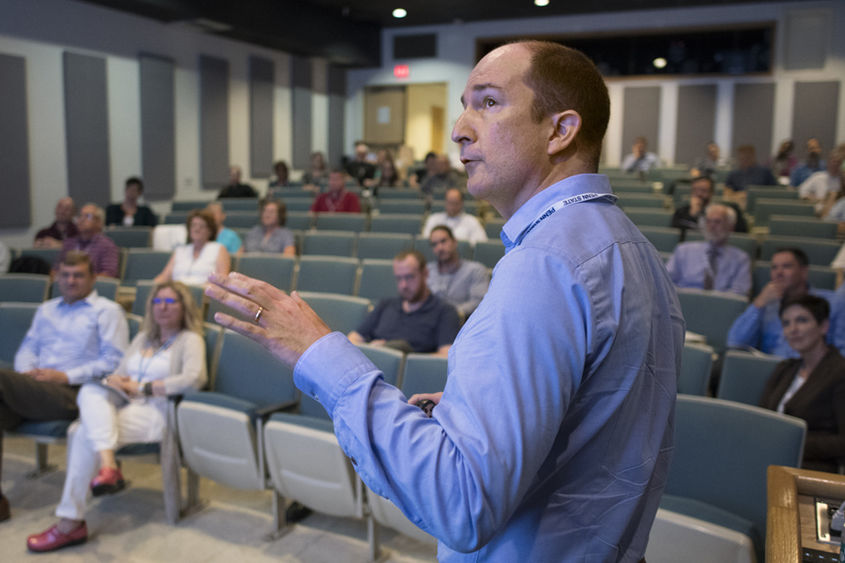 UNIVERSITY PARK, Pa. — Faculty and staff from across Penn State came together Aug. 15-16 at University Park in support of entrepreneurship teaching and learning at the fifth annual ENTI Summer Gathering. ENTI, launched is 2013, is Penn State's Intercollege Minor in Entrepreneurship and Innovation.
Nearly 60 faculty and staff members from seven colleges and five campuses attended the retreat that featured a keynote address, panel discussions and workshops aimed at supporting Penn State's growing interdisciplinary community of entrepreneurship teachers.
In his keynote address, Andrew Muirhead, vice president, Product Division Original Equipment Innovation at Lufthansa Technik AG, described his role in making intrapreneurship, or innovation within an existing company, a driving force in one of the largest aviation organizations in the world.
"An intrapreneur is someone who innovates within a corporate environment—someone who is a fighter, but is more comfortable within the confines and safety net of an established business."

--Andrew Muirhead, vice president, Product Division Original Equipment Innovation at Lufthansa Technik AG
According to Muirhead, less than five percent of employees engage in intrapreneurial activity. He described how a customer focus mindset, design thinking, creative atmospheres and workshops that push engineers out of their comfort zones, and team funding competitions have been integral in developing an innovative culture at both Lufthansa Technik and the Lufthansa Group as a whole. He attributes the success of the division he founded in 2002 and still spearheads and which makes the company more than $90 million in annual revenues, to this focus on intrapreneurship.
He addressed many of the roadblocks intrapreneurs often face in a corporate environment, included conformity, short sightedness, intolerance of failure, and silo thinking. He also described how passion for your work, pushing boundaries, tolerating risks, and learning from failure are key attributes to success.
Ashu Kumar, an instructor and ENTI coordinator at Penn State Beaver, attended Muirhead's session, and said it helped him to make connections between his class material and the real corporate environment. "The keynote also demonstrated that it is important to have a conducive environment to let the new ideas flourish in an organization," said Kumar.
Anne Hoag, ENTI director, was excited to gather with colleagues from across Penn State for this annual event.
"This year's ENTI Summer Gathering brought together the biggest group ever of Penn State entrepreneurship educators and I saw so much enthusiasm for our mission—to become a leader in entrepreneurship teaching and learning. Words I heard throughout all the sessions and workshops were 'collaborate,' 'connect,' and 'create'—they perfectly reflect the spirit of the generous, dedicated educators the ENTI family has grown into," said Hoag.
Participants from the College of Agricultural Sciences, Smeal College of Business, Donald P. Bellisario College of Communications, College of Engineering, College of Health and Human Development, College of Information Sciences and Technology, College of the Liberal Arts, as well as from Penn State's Abington, Altoona, Beaver, and Wilkes-Barre campuses, took part in sessions on entrepreneurship teaching approaches, practice and mindset, tools and technology, community engagement, and marketing and storytelling. Faculty and staff from Invent Penn State, Penn State Outreach, Penn State Small Business Development Center, Schreyer Institute for Teaching Excellence, Teaching and Learning with Technology (TLT), Undergraduate Education, and University Libraries were also on hand to lead and participate in sessions.
Alan Rieck, assistant vice president and assistant dean for Undergraduate Education, said that entrepreneurship and innovation are essential elements of an effective and meaningful education, and praised the work of entrepreneurship educators across Penn State.
"The work of the people who are providing specific opportunities for students across colleges and campuses is tremendously important. This yearly gathering provides an opportunity for those individuals to network, learn new ways to effectively teach entrepreneurship and innovation, and work together to promote and grow these opportunities for students throughout Penn State," said Rieck.
The ENTI minor is an intercollege program administered by the Office of Undergraduate Education, and is available to students in any University Park college as well as those at Penn State Abington, Beaver, Behrend, and Berks. Visit enti.psu.edu for more information.