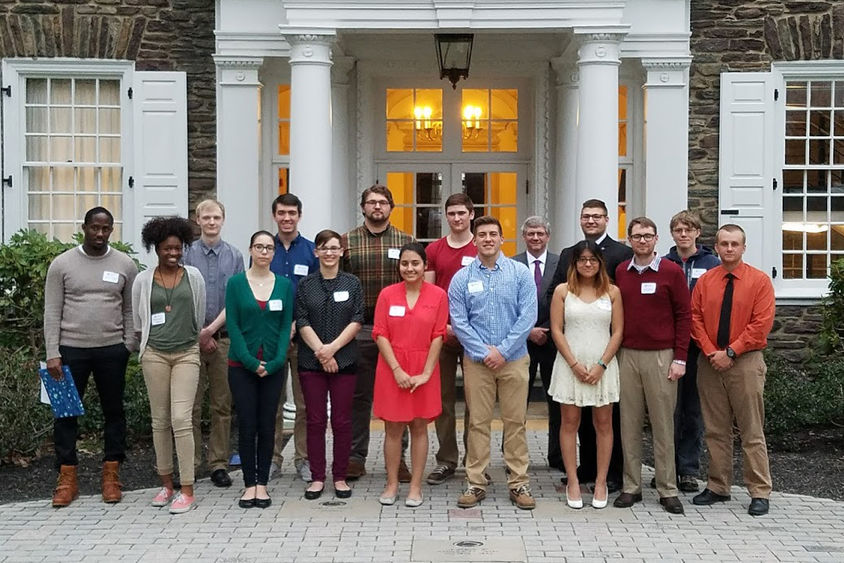 LEHMAN, Pa. — Penn State Wilkes-Barre TRiO Student Support Services' year-end celebration was held on April 20 at the campus' Hayfield House. The annual ceremony honors graduating seniors and celebrates student successes. Chancellor and Chief Academic Officer Dale Jones welcomed and congratulated the students, noting their dedication and commitment to their education, the Student Support Services (SSS) program, and the Wilkes-Barre campus.
A 2009 graduate of Penn State and a former SSS participant, Brooke Padavan served as the guest speaker. Padavan, a former peer mentor, encouraged students to become involved within organizations on campus and to use the services that SSS offers.
"Believe in yourselves and your abilities, and never doubt that success will come," Padavan said.
TRiO Coordinator Patty Staskiel presented scholar certificates and awards of honors to the program's students.
"We are all so very proud of our scholars and graduates," said Staskiel. "You have achieved great things while working hard in the classroom and dividing your time among work, family and a variety of campus clubs and organizations."
TRiO scholars in attendance included Tiffany Amigon, Jacob Chalawich, John Chapman, Connor Gaffney, Chad Grzesnikowski, Susan Huey, Colby Karnes, Katie Kelch, David Lewis, Mason Moore, Barry Pawloski, Amanda Claudia Scott, Courtney Snow, Maquiyyah Spears, and Tyler Wozniak.
TRiO alums that were part of the 2017 commencement class and were honored at the celebration are Ruby Amigon, Kyle Brogan, Jeff Carter, and Khalid Liburd.
Student Support Services peer mentors Huey and Pawloski were also recognized for their contributions to the program.
TRiO Student Support Services at Penn State Wilkes-Barre serves 160 students and has been in existence for nearly 20 years. The TRiO SSS staff of Staskiel, Gail Stevens, Pat Arcangeli, Getinet Gawo, and Brandi Brace coordinate a variety of services for students, including academic advising, tutoring, career counseling, financial counseling, cultural activities, various academic workshops, and assistance in transitioning to other campuses.
"SSS congratulates our seniors on their completion of successful college careers at Penn State Wilkes-Barre," said Staskiel. "We applaud all of the students who work hard to succeed both inside and outside of the classroom."