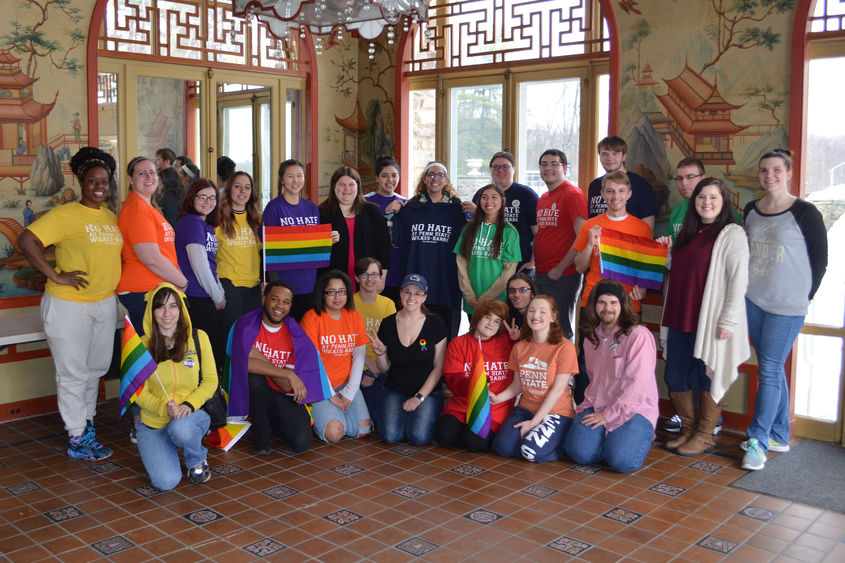 LEHMAN, Pa. — Penn State Wilkes-Barre, in conjunction with a University-wide initiative, recently celebrated Pride Week 2017.
Students at Penn State Wilkes-Barre had the opportunity to participate in activities throughout the week including an allys' information table, SafeZone training with campus counselor Sarah Luvender, and a live feed from University Park featuring Angelica Ross.
From the board room, to film sets, to the White House, Ross is a leading figure of success and strength in the movement for trans and racial equality. Named, "1st Foot Soldier of the Year" in 2015 by Melissa Harris Perry, Ross is the founder of TransTech Social Enterprises, a company that empowers trans and gender nonconforming people through on-the-job training in leadership and workplace skills. Ross has toured nationally, speaking her powerful mission into action with business leaders, educators and the president of the United States. Since studying theater at Florida Atlantic University, Ross has been featured in film, television and live theater. Ross is the breakout star of the upcoming series "Her Story," which explores the deeply moving lives and loves of two trans women in Los Angeles. For more than 10 years, Ross has directly engaged her communities in order to create opportunities for independence, freedom and success through social work, entrepreneur and leadership development, business building and education.
The week also featured a film and discussion event featuring Vicelands' "GayCation – Orlando." In this documentary, hosts Ellen Page and Ian Daniel go to Orlando, Florida, in the wake of the shooting at Pulse nightclub that killed 49 people and injured 53 on June 12, 2016. Page and Daniel meet with survivors like Angel Santiago, who crawled to safety after being shot in the foot, and Eddie Letzer, who lived but lost two friends that night. They also speak to Nancy Rosado, vice president of the nonprofit Misión Boricua, about how the Latin community, which makes up nearly a third of Greater Orlando, was specifically affected that night and how marginalized it still is.
The week culminated with a We Are…Pride brunch held in Hayfield House.