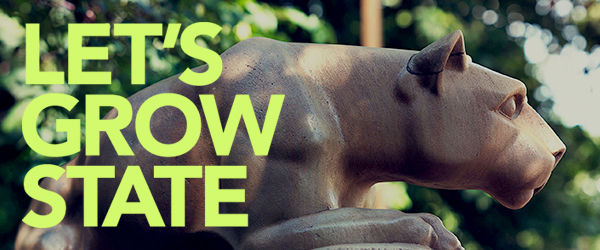 UNIVERSITY PARK, Pa. — Penn State has officially launched Let's Grow State, a new crowdfunding platform for fundraising projects across the University. The platform, managed by the Office of Annual Giving in the Division of Development and Alumni Relations, is designed for individuals or groups of Penn Staters to promote and raise money for the ideas, projects and causes that are important to them.
"Penn State is a great University, with so many great ideas taking shape under the radar. Let's Grow State is a way for people to tell their stories in their own words," said Geoff Hallett, the program's director.
Via Let's Grow State, Penn State students, faculty, staff, alumni, parents or friends can apply to have a promising idea take shape through a crowdfunding campaign. Users can feature the groundbreaking and transformational work they are doing and inspire others to support their potential, by creating videos, posting updates and showing the impact contributions have on their work. Donors can support as many campaigns as they choose, and all tax-deductible gifts are deposited in the University account of the campaign sponsors or champions.
Applications can be submitted on the program's website, grow.psu.edu, by clicking on the green "Ideas" button. Once the application is submitted, a member of the annual giving staff will contact you for an interview.
For more information, contact Geoff Hallett, [email protected] or 814-863-2052.