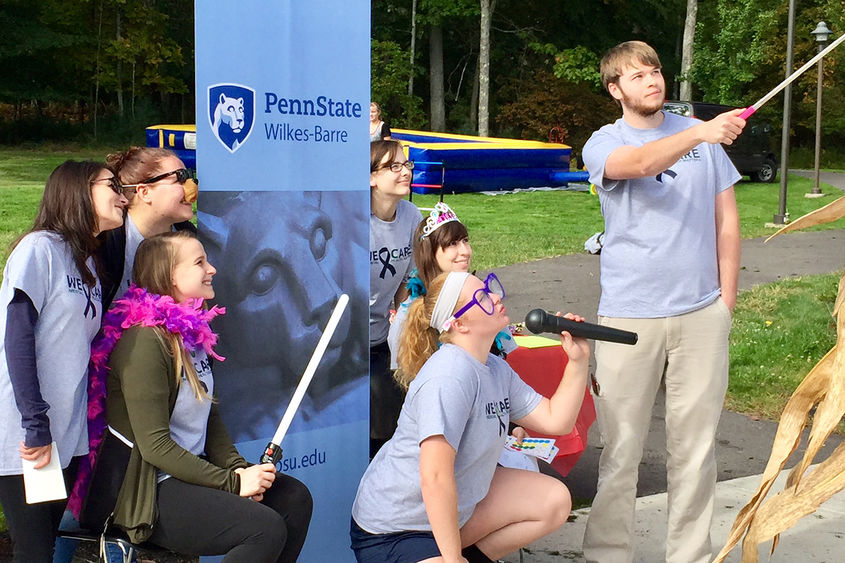 LEHMAN COUNTY, Pa. — On Oct. 7, the Rehabilitation & Human Services (RHS) department at Penn State Wilkes-Barre, along with the Student Activity Fee, Student Activities, and several other departments, hosted the second annual Mental Health Awareness Day. The theme of the day was practicing self-care. Students, faculty and staff were invited to take a break from their busy schedules and do something they enjoy.
"Students are better able to focus on their school work and be successful academically if they take care of their emotional well-being," explained Instructor and Event Coordinator, Melisa Naylor. "Students are less likely to engage in negative coping behaviors if they practice positive coping skills to manage their stress. Mental Health Awareness Day was to promote emotional and mental well-being through an experiential learning experience. The day included coloring, outside games, a Wellness Screening, pumpkin painting, jousting, a massage therapist and much more!"
Recently, the RHS department also held a National Alliance on Mental Illness (NAMI) presentation coordinated by Garrett Huck. The NAMI presentation had students from the Hazleton and Wilkes-Barre campuses in attendance. Huck invited guest speakers from the NAMI local chapter to help increase awareness about severe mental illness. The event had 2 speakers each sharing their personal stories. A representative of NAMI chapter also provided information on the organization.
"The experience was very impactful for students, faculty, and staff," stated Huck. "Attendees had the chance to hear a firsthand story of what it is like to experience severe mental illness and how it impacts a person's life."
"Good mental health isn't just the absence of mental health problems such as depression or anxiety. Rather, it's the presence of positive characteristics, such as being able to cope with life's challenges, handle stress, build strong relationships, and recover from setbacks." — Helpguide.org 2016