Former Penn State All-American Miles Chamley-Watson helps U.S. men's foil earn first team Olympic medal since 1932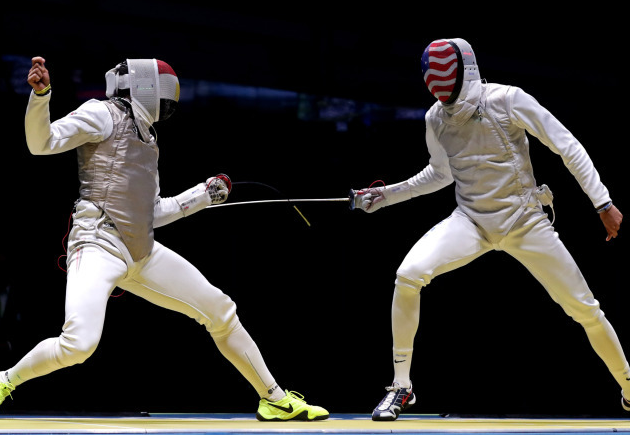 UNIVERSITY PARK, Pa. — Penn State student-athletes have shined during the opening week of the 2016 Olympic Games in Rio de Janeiro, Brazil. Eleven Nittany Lions across seven teams have competed thus far, with four more set to begin action next week, as well as one former student-athlete who is coaching.
Former Nittany Lion fencing All-American Miles Chamley-Watson earned the 30th Olympic medal by a Penn State student-athlete, as he helped the United States men's foil team win the bronze medal Friday (Aug. 12).
Penn State has a school record contingent of 25 for the Games of the XXXI Olympiad, which includes 17 competitors (15 student-athletes), three coaches and five alternates. With 12 first-time competitors in Rio, the Nittany Lions have had a total of 109 student-athlete Olympians all-time.
Penn State's 11 competitors on Team USA leads the Big Ten and are tied for No. 10 among all colleges and universities, according to the United States Olympic Committee (USOC). The Nittany Lions are tied with Florida and Washington with 11 Team USA members for the Games of the XXXI Olympiad.
Men's fencing
Former Penn State All-America fencer Miles Chamley-Watson played an integral role in the U.S. men's foil team earning the bronze medal, the first Olympic medal for the team since the 1932 squad also delivered a bronze. Earlier Friday, Chamley-Watson won all three of his bouts in the semifinals vs. Russia by a combined score of 24-12. He competed in two bouts in the bronze medal match against Italy, helping the United States win 45-31.
Chamley-Watson earned the third Olympic fencing medal by a Penn Stater, but the first for a member of Team USA. In the 2000 Olympics, Alexander Weber won a bronze medal competing for Russia, and in 2008 Adam Wiercioch earned a bronze medal competing for Poland.
Participating in his second consecutive Olympics, former Nittany fencer Daniel Gomez-Tanamachi lost his opening match in the men's foil, competing for Mexico.
Men's and women's volleyball
Another pair of Penn State All-Americans, Christa (Harmotto) Dietzen and Alisha Glass, have been instrumental in the U.S. women's volleyball team remaining unbeaten in group play. The U.S. defeated Italy 3-1 today to improve to 4-0 and will meet China at 4 p.m. ET Sunday in its final group match. The quarterfinals begin Tuesday.
Led by three former Nittany Lion standouts, the U.S. men's volleyball team defeated No. 1 ranked Brazil 3-1 Thursday night to earn a critical victory after an 0-2 start in the tournament. Matt Anderson (24 points vs. Brazil), Max Holt and Aaron Russell (23 points vs. Brazil) play instrumental roles on the squad, which meets France at 4 p.m. Saturday.
The U.S. men's volleyball team closes out group play when it meets Mexico at 10:35 a.m. on Monday, Aug. 15. The Mexico squad features formerly Nittany Lion Carlos Guerra, as well as assistant coach Ivan Contreras, who was the 1997 AVCA Player of the Year and helped Penn State win the 1994 NCAA championship. Mexico faces Canada on Saturday before meeting the U.S. squad on Monday.
Women's soccer
Former Nittany Lion standouts and World Cup champions Ali Krieger (women's soccer) and Alyssa Naeher helped the U.S. Women's National Soccer Team go unbeaten during group play. But, Sweden defeated the U.S. 4-3 on penalty kicks on Friday in the quarterfinals.
Men's swimming
Shane Ryan, who will be a Penn State senior this fall, swam in three events for Ireland and posted the highest finish by a Nittany Lion men's swimmer in the Olympics. He advanced to the semifinals in the 100-meter backstroke, finishing 16th overall. Ryan placed 14th overall in the 100 back preliminaries with an Irish record time of 53.85 seconds. The Havertown, Pennsylvania, product also competed in the 50 (:22.88) and in the 100 free, posting a season-best :49.82.
Also, former Nittany Lion basketball standout Tom Hovasse is an assistant coach on the Japan women's basketball team, which is 2-2 in Olympic play. The Japanese squad plays France at 4:45 p.m. Saturday in its final group game.
Track and field, wrestling competitors to begin next week
Penn State's Olympic competitors next week will include Darrell Hill and Joe Kovacs in the men's shot put (Aug. 18) and Frank Molinaro in the 65 kg men's freestyle wrestling (Aug. 21). Eddie Lovett, who is a volunteer coach with Penn State track and field, will compete in the men's 110 hurdles Monday for the U.S. Virgin Islands.
Bobby Lea, who graduated from Penn State Lehigh Valley, is competing for the U.S. cycling team in the Omnium competition, which begins on Sunday. Penn State student Matt Baranoski begins competition Tuesday for U.S. Cycling in the Keirin competition. Baranoski also attended the Lehigh Valley campus for two years before transitioning to University Park, where he will complete his degree in electrical engineering.
Not including the 1980 Olympics in Moscow, where 65 countries did not participate, Penn State has sent athletes to each Summer Olympics since 1948, a streak of 17 consecutive Olympic Games. Penn State sent a then-school record 17 competitors and coaches to the 2012 Olympic Games in London.
In addition to the NBC television networks, coverage of the Olympics can also be found on NBCOlympics.com and the NBC Sports App.
The complete schedule for Penn State Athletics' competitors and coaches and more can be found at the Nittany Lions' Rio Olympics Central: http://www.gopsusports.com/olympians/rio-2016.html.