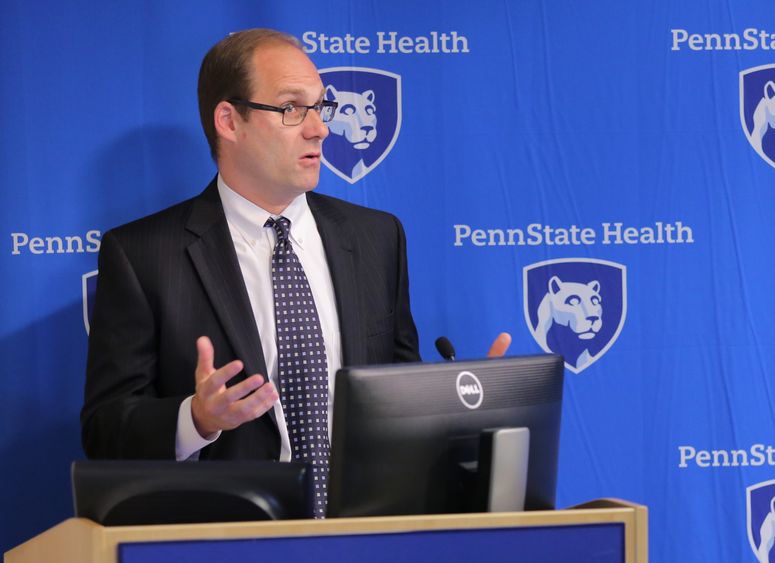 Penn State Children's Hospital was recently selected to serve central and northeast Pennsylvania as a partner in a new PA HealthChoices program, called the Telephonic Psychiatric Services Program, or TiPS. The Children's Hospital will offer peer-to-peer child psychiatry consultation teams to primary care providers (PCPs), medical specialists and other prescribers of psychotropic medications for children from the State College through the Scranton Wilkes-Barre area.
"The goals of TiPS align with the Children's Hospital's mission of enhancing health across the region," said Dr. James Waxmonsky, division chief of child psychiatry and TiPS program manager for the Children's Hospital.
More than half of children with a diagnosable behavioral health condition have not received any treatment in the past year, Waxmonsky said. There is a national shortage of child psychiatrists, with only 16 per 100,000 children in our state. Under 20 percent of Pennsylvania's 67 counties have more than five child psychiatrists. Many rural counties do not have a single provider.
"This psychiatry shortage combined with the unfortunate but persistent stigma of mental health places the burden of treating behavioral health problems squarely on the shoulders of primary care providers across the state," he said.
TiPS will provide real time expert support to primary care providers on the assessment and treatment of common behavioral disorders impacting youth. The program also will help connect families to mental health resources in their community.
"For an adolescent, a TiPS call could identify serious depression before a suicide attempt occurs," Waxmonsky said. "For a child with severe anxiety, TiPS guided treatment can help them get back to school sooner. For a foster parent raising a child prone to aggression, TiPS care coordinators can help connect them to a skilled local therapist, reducing the child's chances of being prescribed possibly unnecessary antipsychotic medication."
In June 2015, DHS released new data on psychotropic medication use among Medicaid-enrolled Pennsylvania children in foster care, as well as the state's action plan to address the findings. The TiPS program is part of the action plan.
The program provides real time resources to the PCPs and other providers who desire immediate consultative advice for children with behavioral health concerns, covered by Medical Assistance, up to age 21.
The TiPS teams include child psychiatrists, licensed therapists, care coordinators and administrative support. TiPS core services include:
Telephone and face-to-face consultation
Care coordination
Training and education
TiPS services are available Monday to Friday from 9 a.m. to 5 p.m., and can be accessed by calling Penn State Health's MD Network at 1-800-233-4082.
Learn more about TiPS on the DHS website.