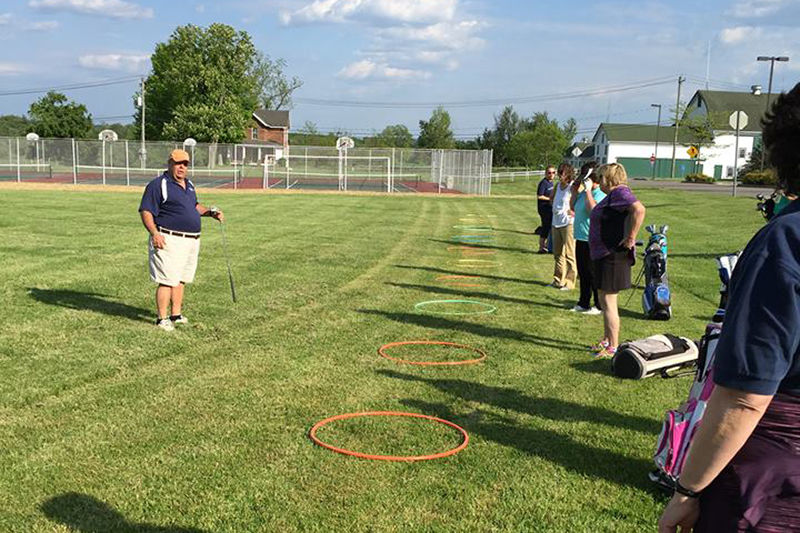 LEHMAN, Pa. — Are you looking to learn the game of golf in a relaxed atmosphere with players of your own ability? Whether you are a novice or a beginner, you will have fun learning the fundamentals, including grip, stance, alignment and the full swing. Develop skills for pitching, chipping and putting on a grass putting green with plenty of time for questions about everything from clubs to course strategies.
The Penn State Wilkes-Barre Northern Tier Center and Towanda Country Club have partnered to offer a program that has a track record of success. Penn State Wilkes-Barre is pleased to welcome Ed Keil as this spring's instructor. Ed is in his 25th year coaching golf at Penn State Wilkes-Barre. In that time, the team has captured seven league titles, most recently in 2010. Ed has been a golf course superintendent since 1980 and a 21-year Class A member of the Golf Course Superintendents Association of America. He is an alumni of Penn State Wilkes-Barre.
The Ladies Golf Clinic for Beginners will be held from 3 to 6 p.m. on Saturday, July 9, and on Sundays July 17, July 24 and Aug. 7 at the Towanda Country Club. The clinic will wrap up with a "play the course" day from 3 to 6 p.m. on Sunday, Aug. 14. The cost of the clinic is $159 per person, and the deadline to register is Friday, July 1. All participants will need to bring clubs and a drink.
The Penn State Wilkes-Barre Northern Tier Center in Towanda extends the resources of a world-class, Big Ten, research-oriented university right into the northeast corner of Pennsylvania. We strive to be the partner of choice by providing superior customer service, recognizing that our growth depends upon establishing and maintaining satisfied relationships. We serve individuals, companies, and organizations in Bradford, Sullivan, Wyoming and Luzerne counties offering quality programming to support the workforce development needs of companies and the professional and personal development needs of individuals.
For more information, contact the Penn State Wilkes-Barre Northern Tier Center at 570-268-7778 or [email protected].