Each year, Penn State Wilkes-Barre is asked to nominate students for the prestigious Who's Who in American Junior Colleges and Who's Who in American Colleges and Universities. First- and second-year students are eligible for the former award, while third- and fourth-year students are considered for the latter. The criteria for these awards are scholarship, participation and leadership in academic and co-curricular activities, citizenship and service to Penn State Wilkes-Barre and the surrounding community, and potential for future achievement. The awards were presented at the recent Leadership and Athletics Awards ceremony held at Penn State Wilkes-Barre.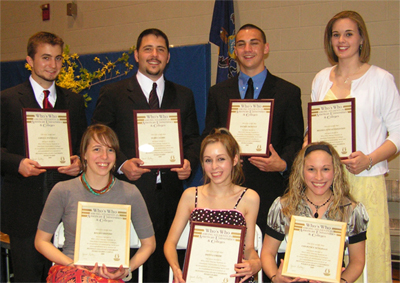 This year's recipients are, seated, left to right, Kelsey Biondo, Donna Smith and Courtney Senghaas;
standing, left to right, are Jared Pantella, Mark Calore, Daniel DeNucci and Melissa Gunshannon.