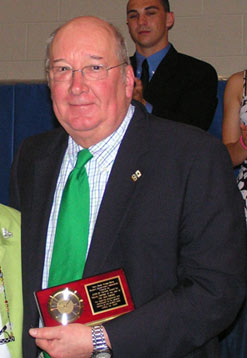 Ken Fisher was the recipient of the Hayfield Outstanding Faculty Member of the Year award at this year's Leadership & Athletics Awards Ceremony at Penn State Wilkes-Barre. The award is based on a combination of teaching excellence and contribution to the general welfare of students at Penn State Wilkes-Barre. The recipient of this award is elected by the student body and the Student Government Association, which makes it especially meaningful to faculty.
Mr. Fisher attended SUNY in Binghamton, NY from 1969 to 1973. He received his BA in English from King's College and his MA in English from Fordham University. He taught English at the Woodbridge Township public school system in Woodbridge, NJ and the Westfield public school system in Westfield, NJ. He was employed as an Adjunct Professor of English at King's College and later as an Instructor and Assistant Professor of English at College Misericordia.
In 1998 Fisher started at Penn State Wilkes-Barre, where he established the Writing Center. He served on numerous committees, including the Student Affairs Committee of the Faculty Senate, the Walker and Murphy Awards Committee, and the Student Activity Fee Committee.
This is not the first time that Fisher has received this honor.  The current award, however, is especially poignant as Fisher has now entered into a well deserved retirement.