Each year, the student clubs and organizations of Penn State Wilkes-Barre choose their Outstanding Club Member of the Year.  This award is presented to the one member that each club feels has contributed the most to the welfare of their club, campus and community.
Based on their outstanding leadership and devotion to their clubs and organizations, this year's Outstanding Club Members of the Year are Shelby Murren (THON); Marika Merritt (Honor Society); Donna Smith (The Collegian); Melissa Deremer (Students For Justice); Jared Pantella (Surveying Society); Daniel Elbich (Lion Ambassadors); Jim Joyce (Lazy Artist Society/Radio Club Committee); Dhaval Patel (Engineering Club); AJ Race (4 Seasons); Sara Jannuzzi (Business Club); and Silvia Sutkowski (Lambda Sigma).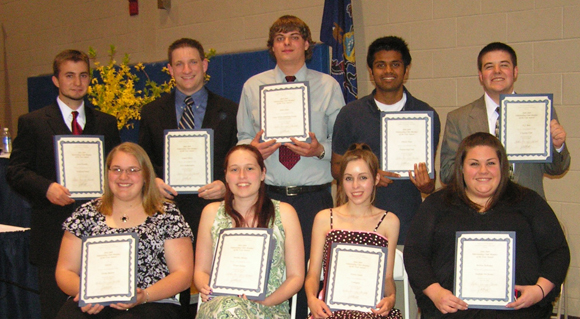 Front row, left to right: Shelby Murren, Marika Merritt, Donna Smith, Melissa Deremer.
Back row, left to right: Jared Pantella, Daniel Elbich, Jim Joyce, Dhaval Patel, AJ Race.
Not shown in picture: Sara Jannuzzi, Silvia Sutkowski.