Penn State Wilkes-Barre held two "Spend a Summer Evening with Us" open houses on July 15 and July 22. At each event, more than 70 guests were welcomed to the campus by current students and faculty and given the opportunity to ask questions about majors, financial aid, and student life at Penn State.
After a welcome from Dr. Charles Davis, chancellor of Penn State Wilkes-Barre, current students and faculty members were available to answer questions while families enjoyed complimentary ice cream from Penn State's Berkey Creamery, went on tours led by Penn State Wilkes-Barre Lion Ambassadors and were entertained by the Nittany Lion.
"It was very rewarding to have so many students from the surrounding communities come here and see all that Penn State has to offer," Davis commented. "Our campus may be small compared to other Penn State campuses, but we have a lot to offer and we were glad to have the opportunity to showcase that to these young students."
All high-school students and their parents are invited to schedule a visit and tour the campus at www.wb.psu.edu/admission-events.
For more information, please contact Tracy Garnick at 570-675-9218 or [email protected].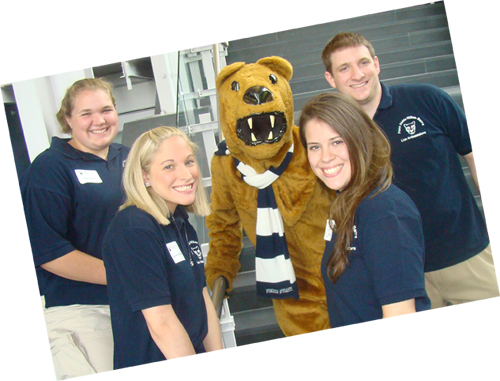 Lion Ambassadors Shelby Murren, Courtney Senghaas, Jess Wrieden, and Dan Elbich,
along with the Nittany Lion, welcome students to Penn State Wilkes-Barre.