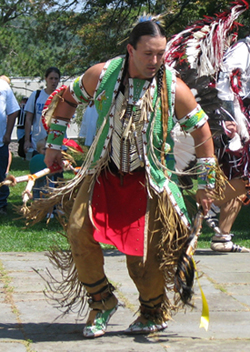 On Sunday, August 30, more than 100 artisans, musicians, crafters and more will converge on the Penn State Wilkes-Barre campus in Lehman for the Annual Arts at Hayfield Summer Festival.  Celebrating its 25th anniversary this year, the daylong event will be held from 10:00 a.m. to 5:30 p.m. on the campus grounds.
Featuring blues music by Teddy Young and the Aces, the folk sounds of Just Us, Traditional Irish Step and Native American Dance, juggling by Robert Smith and magic by Pat Ward, both local and regional performers will take to the stage starting at 11:30 a.m.
The day's events will also include tours of historical Hayfield House, views through the campus' Meade Telescope in the Friedman Observatory, and demonstrations including lute making, woodcarving, pottery, bookbinding, and quilting.  Barnes and Noble will host Children's Story Time in the campus' Fran Brown Memorial Gazebo and the Back Mountain Youth Theater Company, under the direction of Gina Majors, will perform "Snow White and the Seven Dwarfs."
A requested $2 donation for adults supports an annual achievement award to an arts-oriented Penn State Wilkes-Barre student, donations to public performances offered by the FM Kirby Center, Misericordia University, the Fine Arts Musical Program at the Shavertown United Methodist Church and to Great Books at Penn State Wilkes-Barre as well as occasional support for arts-oriented projects at local libraries and programs at Penn State Wilkes-Barre.
In conjunction with the Summer Festival, the Second Annual Pump and Five Kilometer Run Contest will be held at the campus beginning at 9 a.m.  Participants will weigh in at 9 a.m. and begin with the bench press portion of the competition.  Depending on the amount of successful bench presses a contestant completes, time will be deducted from their running time.  Awards will be given to the overall top two male and female finishers, with additional prizes available for the top male and female runner.
For more information, contact Summer Festival Chair Janis Winter at 570-675-9232 or [email protected].