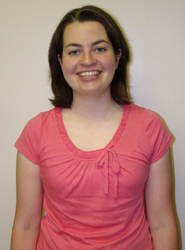 Students at Penn State Wilkes-Barre will see a new instructor on campus this fall when Ann Brennan of Dallas, PA, begins her position as English instructor for the campus.
A 2003 graduate of Seton Catholic High School, Brennan earned a Bachelor's degree in English from Marywood University, where she was also a member of the basketball team.
Brennan then went on for her Master's degree in English Literature at Seton Hall University where, she said, she discovered her love of teaching.
"I had a graduate teaching assistantship there and that's where I really found out that teaching was what I enjoyed and what I wanted to do," Brennan said.
Brennan said she first applied for the English instructor position with Penn State Wilkes-Barre because she liked the idea of being at a small campus with a big name.  Having gone to smaller schools for high school and college, Brennan said she liked the idea of working at a small school and is thrilled to be at Penn State Wilkes-Barre.
"Everyone I've met has just been so wonderful and friendly and helpful," Brennan said.  "They really want you to succeed and will do anything they can to help you."
Brennan will be teaching four sections of English 015 - Rhetoric and Composition this fall and said she looks forward to adding other classes to her schedule for the spring.
Penn State Wilkes-Barre provides the benefits of a world-renowned university in a smaller, more intimate setting.  Dedicated staff and teachers have helped students of all ages since the campus' inception in 1916 and continue to provide excellent education and support.  Penn State Wilkes-Barre boasts eight Bachelor's degrees and six Associate's degrees available at the campus and the ability to start one of over 160 degrees at Penn State Wilkes-Barre and complete it at another campus.
Penn State University is committed to equal opportunity and diversity in both its employees and students.  For more information, contact Melissa Gunshannon, Public Information Coordinator at 570-675-9269 or [email protected].