Approximately 250 Penn State students from around the world gathered at Penn State Berks in Reading, PA to attend the Penn State University Summer Leadership Conference held from August 12-14.  Seven students from Penn State Wilkes-Barre were chosen to represent the campus during this three-day conference which focused on developing leadership, citizenship and networking skills. Students attended workshops, participated in community service activities and shared experiences across the University's 20 campuses
Shelby Murren, Penn State Wilkes-Barre's Dance Marathon (THON) Committee Chair said she was pleasantly surprised with the Summer Leadership Conference and enjoyed all the workshops offered.
"It was very informative and a good experience," Murren said.  "We met a lot of new people and it was nice to see the Commonwealth campuses combine and talk to each other.  We're all going through the same thing, recruiting, making sure the committees are strong and that we can do our best."
Murren also said keynote speaker Nancy Hunter Denney was very enthusiastic and really drove home the message of being involved and getting everyone in the mindset of being a leader and not doubting their abilities.
Penn State Wilkes-Barre Student Government Association (SGA) President Mark Calore said he benefitted most from the strategic planning exercises.
"Strategis planning is not something I get to do all the time," Calore said, noting that this event allowed everyone to come together and use free association, expressing any and every idea that came to mind.
As the academic year commences, the students who attended the Summer Leadership Conference will become role models for other students on campus as they put into practice what they learned over the summer.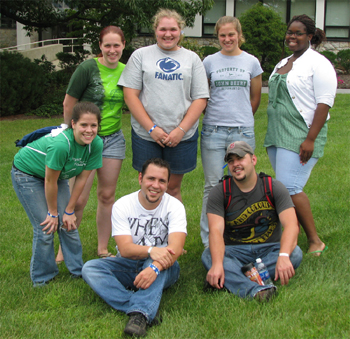 Penn State Wilkes-Barre Summer Leadership Conference participants:
Front row: Jessica Wrieden (THON Committee Vice Chair); Mike Calore; Mark Calore (SGA President)
Second row: Marika Merritt (Honor Society); Shelby Murren (THON Committee Chair); Allison Waltemyer (Freshman Representative); Brieana Mitchell (Campus Environment Team)