Ghouls, ghosts, and things that go bump in the night will come alive during the 13th Annual Haunted Forest at Penn State Wilkes-Barre.
Originally developed in 1998 by a former Penn State Wilkes-Barre Student Government Association president, Haunted Forest transforms the campus grounds and Hayfield House into a fun-filled Halloween activity and charity event.
All proceeds raised at this eight-night event support the Penn State Dance Marathon (THON), which raises money for the Four Diamonds Fund at the Hershey Medical Center.  The Four Diamonds Fund was established in 1972 to aid families battling pediatric cancer by providing innovative cancer research and treatment as well as support for the families.
This year's Haunted Forest will be held on Thursday-Saturday, October 15-17, Thursday-Saturday, October 22-24 and Thursday-Friday, October 29-30 from 7:00-10:40 p.m.  Admission is $7 for adults 12 and over; $6 for children under 12; and $5 per person for groups of 10 or more.
For more information, contact Jackie Warnick-Piatt, Student Activities Coordinator at Penn State Wilkes-Barre, at 570-675-9284 or [email protected].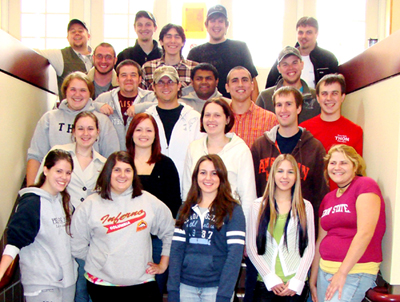 Members of the Penn State Wilkes-Barre Haunted Forest Committe:
Row 1: Jessica Wrieden, Alexis Bausinger, Amy Polachek, Shannon Brace, Kate Lewis
Row 2: Bethany DeRenzis, Amy Parry, Marika Merritt, Andrew Olshefski
Row 3: Shelby Murren, Dominic Borzell, Jason Oliver, Dave Glicini
Row 4: Andrew Race, Fenil Patel, Justin King
Row 5: Nick Mosher, Charles Capuano
Row 6: Lawrence LaRue, Jim Kovalik, Daniel Dymond, Jim Joyce