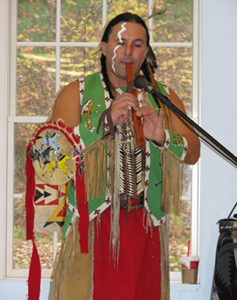 Frank LittleBear, a First Nation Native American lecturer, performing artist, and musician will be at Penn State Wilkes-Barre on Thursday, November 5 to celebrate Native American History Month with the campus and community.
LittleBear's performances, known for heart-pounding drums and music, elaborate regalia, and intricate dances from many different Native American cultures, strive to educate the public through a fun and entertaining presentation that brings history to life.  He combines traditional and contemporary Native American traditions, showing different aspects of Native American history as well as different styles of music and customs.
LittleBear will be presenting two free shows, one at 12 p.m. in the Student Commons and one at 7 p.m. in Hayfield House Community Room.
For more information, please contact Jackie Warnick-Piatt, Student Activities Coordinator at Penn State Wilkes-Barre, at 570-675-9284 or [email protected].