Coming from a 9-12 record last season, the men's basketball team at Penn State Wilkes-Barre is back with a vengeance.
"We should definitely make it to playoffs this year," junior tri-captain John Sanderson said. "We're more athletic this year; we're a lot taller and a lot faster. It's a total 360 from last year. When we don't have practice, we're still in the gym working out. We want to be here."
Though this year's team is fairly young, only three returning players, most of the team has been playing basketball for a decade or more.
Junior Ryan Whitmiller, also serving as a tri-captain, said he's been playing for 15 years. Spending the past three years with the Penn State Wilkes-Barre basketball team, Whitmiller has seen many changes from year to year and has high expectations for this season.
"The talent and level of play is so much higher this year," Whitmiller said. "Everyone can get up and down the court fast and we have a lot more depth."
"Our goal is to have other teams say 'Nah, we don't want to play Penn State Wilkes-Barre next year,'" junior Mike Buczkowski said, adding his vote of confidence that "we can at least play with anybody, if not beat them."
"I've been playing my whole life," said Matt Clemons, a 6'6" sophomore from Pittsburgh. This is Clemons' first year with the Penn State Wilkes-Barre team and though he sees the team as having a lot of potential, Clemons said, "We do get too over-confident at times." Clemons, who will have an additional two years with the team after this season, said his goal is to preach selflessness and make sure the entire team continues working together, rather than as individual players with individual egos.
Coach Scott Miner, in his third year with the Penn State Wilkes-Barre men's basketball team, shares the same concerns and high hopes as his players.
"Our team is very young and inexperienced at the college level. We need to get better as a team everyday and also learn to work as a cohesive unit," Miner said. "Once our players figure out how they can make each other better, then our team will be highly competitive."
The Penn State Wilkes-Barre Men's Basketball team celebrated their first tournament victory of the season, defeating both LCCC and Penn State Schuylkill to claim the trophy at the Fourth Annual LCCC Invitational Tip Off Tournament. The team will take their 2-0 record into their next game on Monday, November 16 at Marywood University.
To view the Men's Basketball schedule, and other athletics schedules for Penn State Wilkes-Barre, please visit the Penn State Wilkes-Barre Varisty Sports page.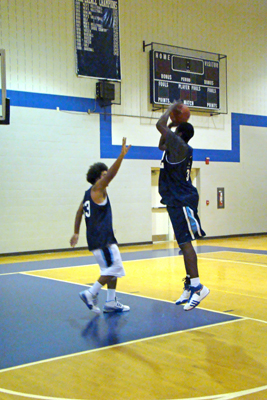 Freshman Marques Middleton defends fellow freshman Shawn Washington
during a recent Penn State Wilkes-Barre men's basketball team practice.