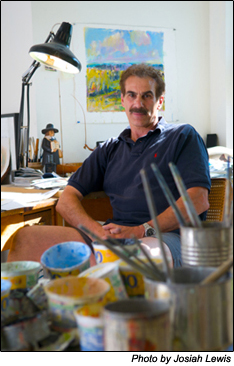 Dalton artist and Penn State Wilkes-Barre faculty member William Chickillo recently exhibited numerous pieces of his artwork at the Thos. Moser Cabinetmakers showroom in New York City's Soho section.  Chickillo's art was included as part of the company's "alternative gallery space" program, which features the work of local and national artists in their showrooms.
Chickillo, a plein-air artist, became involved with Thos. Moser Cabinetmakers through Ronni Potosky, manager of Moser's Madison Avenue and Soho galleries.  Potosky knew of Chickillo's work and thought it would be a good match with the Moser pieces.
"And it was," Chickillo said.  "The colors of my landscapes seemed to be enhanced by the hand made cherry and walnut furniture."
Thos. Moser Cabinetmakers has several showrooms around the country, displaying a broad selection of handcrafted residential and office furniture.
A professional artist and recipient of the F. Lammot Belin Arts Scholarship, Chickillo earned his Bachelor's and Master's degrees in fine art from the Maryland Institute College of Art in Baltimore.  He instructs drawing, painting, and printmaking classes at Penn State Wilkes-Barre.
Chickillo's work has been displayed in both public and private facilities throughout the country, such as the National Academy of Design, the State Museum of Pennsylvania, British Airways, and Polaroid Corporation.  Currently, Chickillo has pieces on display in a group exhibition at Skylake Gallery in Fleetville.
For more information, please contact Melissa Gunshannon, Penn State Wilkes-Barre Public Information Coordinator, at 570-675-9269 or [email protected].