Based on the latest United States Collegiate Athletic Association Division II Coaches Poll, the Penn State Wilkes-Barre Men's Basketball program is now the 16th ranked team in the country.  An overnight trip to the Pittsburgh area this past weekend (January 22-23) justified the Mountain Lions' lofty ranking, as they defeated 17th ranked Penn State New Kensington 88-82 on Friday night.
A short trip out the Pennsylvania Turnpike the next day found the Back Mountain squad in a battle with a team tied for third in the national rankings, Penn State Beaver, where the Mountain Lions dropped an 80-69 decision. The 11-point win was Penn State Beaver's closest league game of the season.
Against Penn State New Kensington, the Mountain Lions had multiple players contribute with double figure scoring, including John Sanderson with 16 points and eight assists, Jared James with 13 points and Matt Clemons with 10 points and five rebounds. Against Penn State Beaver, Sanderson had another solid performance, tossing in 17 points with another four assists, while 6'7" teammate Shawn Washington grabbed 11 rebounds.
Frank Peters recorded his 11th and 12th "double-double" of the season on the road trip, with team highs of 20 points and 15 rebounds on Friday against New Kensington and team highs of 18 points and 14 rebounds on Saturday against Beaver. Peters currently leads the league in rebounding with an 11.4 per game average and is ranked 5th nationally in that category.
Northwest Area alumni John Kelly played well as a key substitute for Penn State Wilkes-Barre, contributing 18 points and nine rebounds in the two games, including an 11-point effort against New Kensington.
The Mountain Lions will have another opportunity to take on a number three nationally ranked team on Friday, January 29 at 8:00 p.m. when they host Penn State DuBois, who is tied with Penn State Beaver for the number three slot. The Mountain Lions will then jump right back into action on Saturday, January 30 when they host Penn State Brandywine at 3:00 p.m.
Article by Mike Truskoloski, Penn State Wilkes-Barre Men's Basketball Assistant Coach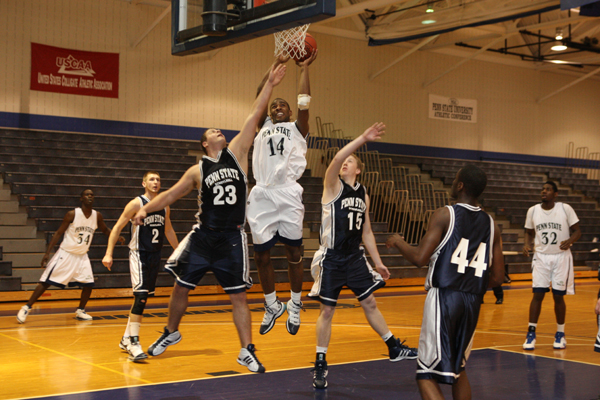 Penn State Wilkes-Barre's Frank Peters (#14) goes up for a shot against Penn State Schuylkill's Ted Styka (#23) and
Paul Carey (#15) at a recent home game.  Photo by Carrie Yaple.