The Northeastern Pennsylvania Technology Institute, under the Pennsylvania Assistance Technology Commercialization Initiative, recently awarded $2,500 to a group of three Penn State Wilkes-Barre students who are completing their senior design project for their baccalaureate degree in Electrical Engineering Technology.
The students, Sean Bovier, Mark Krofchok, and Darryl Schwarz, are designing and building a device that will be able to unlock and open doors remotely.  The mechanism is designed to both meet the needs of those with disabilities who struggle with turning locks and opening doors, as well as for the convenience of people trying to enter their home with their arms full of groceries or other things.
Bovier said the parts for the project should cost less than $1,000, the most expensive part being the DC actuator which is a component in the unlocking and opening mechanism.
"We ordered some parts already and we're just excited to get building," Krofchok said.
Robert Watts, vice president of the Northeastern Pennsylvania Technology Institute, said that, when deciding which projects to fund, the Institute looks for student-led projects with commercial potential and practicality that also address and answer quality of life issues.
Dr. Albert Lozano, Penn State Wilkes-Barre engineering professor and instructor of the senior project, said at the beginning of these projects, the students brainstorm, and any idea is possible.
"As discussions continue, I kind of try to guide the students as to what's realistic and what's not, but the final decision rests with the students," Lozano said.
Watts added he enjoys seeing talented students working with talented faculty.
"Funding students who are ambitious is always exciting for us," Watts said.
The goal of the PATCI program is to develop knowledge and technology in Northeastern Pennsylvania for assistive technologies and quality of life issues for teams of students advised by a faculty member.  If Bovier, Krofchok, and Schwarz are successful with their project by April, there is an opportunity for an additional $30,000 to continue working on the prototype to make it market-ready.
For more information, please contact Dr. Albert Lozano at [email protected] or 570-675-9245.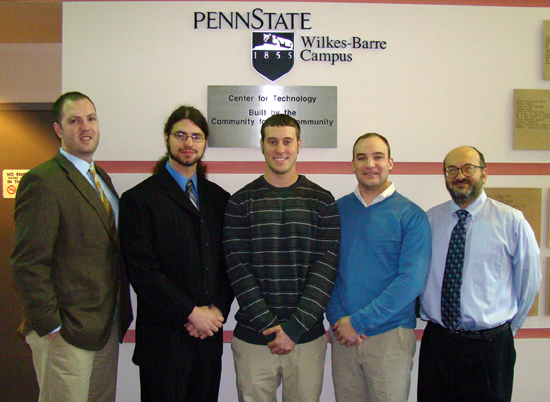 From left: Robert Watts, Northeastern Pennsylvania Technology Institute Vice President; Sean Bovier; Darryl Schwarz; Mark Krofchok; Dr. Albert Lozano, Penn State Wilkes-Barre Engineering Professor