Since 1977, the Penn State Interfraternity/Panhellenic Dance Marathon (THON) has raised more than $61 million for the Four Diamonds Fund at Penn State Children's Hospital.
The Four Diamonds Fund was established in 1972 to aid families battling pediatric cancer by providing innovative cancer research and treatment as well as support for the families.  THON, a 46-hour no sitting, no sleeping dance marathon, is the culmination of a year-long fundraising effort by students at Penn State.  THON allows the students and families to come together and celebrate the victories, both large and small, that THON and the Four Diamonds Fund have achieved.
This year, two students from Penn State Wilkes-Barre will be among the more than 700 dancers on the floor of the Bryce Jordan Center in State College.
"I honestly believe it's one of the best organizations I've ever had the privilege of being a part of," said Amy Parry, one of Penn State Wilkes-Barre's dancers in THON 2010.
Parry, a junior at Penn State Wilkes-Barre, has been involved with THON since her freshman year, serving on both the OPPerations committee, which helps set up, tear down, and maintain the Bryce Jordan Center during THON weekend and the HOSpitality committee, which takes care of serving meals to the dancers.
Among the many activities, events, and benefits of participating in THON, perhaps the most significant is the Adopt-A-Family program which allows THON committees and organizations to partner with a Four Diamonds Family.  This partnership allows that committee to experience first-hand the story of a family the Fund has helped, and also allows the families to meet an organization and form bonds with the students prior to THON weekend.
The Penn State Wilkes-Barre THON Committee is in its second year as the adoptive organization of Tristen, a now five-year-old boy who battled a form of kidney cancer.  Though Tristen has completed chemotherapy and is doing well, Jason Oliver, also representing Penn State Wilkes-Barre as a dancer this year, finds his inspiration comes from this "little fighter."
"To see the energy in his eyes and his adventurous spirit, but to know that his body was potentially shutting down was enough to make me want to push on, try harder, do more," Oliver said.  "Every dollar I help raise is another dollar that can help find a cure for him and other pediatric cancer patients."
THON 2010 will begin at 6 p.m. on Friday, February 19 and concludes at 4 p.m. on Sunday, February 21.  During THON will be numerous events to help keep the dancers motivated and entertained, including a pep rally, All-U hour, fashion shows, talent shows, Family Hour, where many families will share the stories of their own battles with cancer and how THON has helped them, and the unveiling of the final total at the end of THON weekend.
For more information, please contact Melissa Gunshannon, Penn State Wilkes-Barre Public Information Coordinator, at [email protected] or 570-675-9269.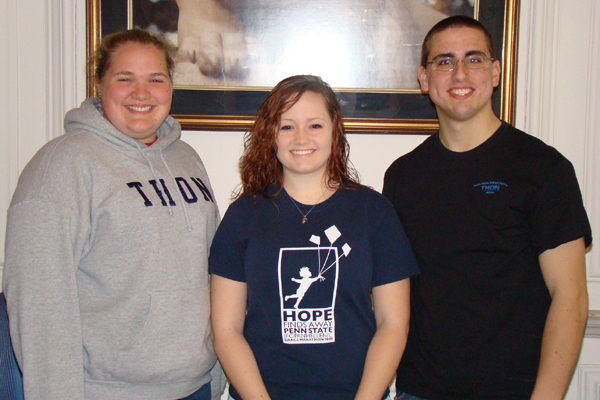 Shelby Murren, Penn State Wilkes-Barre THON Chair; Amy Parry, Penn State Wilkes-Barre THON Dancer; Jason Oliver, Penn State Wilkes-Barre THON Dancer