Julie Barone, a Fall 2009 graduate of Penn State Wilkes-Barre with a B.S. in Administration of Justice, shares her story of working as an intern with the United States Fire Administration in Emmitsburg, Md.:
"I didn't want to do any ordinary internship; I wanted a Federal internship that would be memorable. I picked the right one, interning with the United States Fire Administration in Emmitsburg, Md. My internship was through the Department of Homeland Security, Federal Emergency Management Agency in conjunction with the National Fire Academy, where I evaluated several courses for the Fire/Arson Training Division.
"One course, the Fire/Arson Origin and Cause course, was co-taught by instructors from the National Fire Academy and the Alcohol, Tobacco, Firearms and Explosives agency. I learned the process of investigating a fire from the basics up and used those skills to investigate the origin and cause of a burned training cell in a group project.
"Another course I evaluated was Interview/Interrogation and Courtroom Testimony, which covered all three topics in a span of two weeks. We were taught by a retired FBI agent and learned interrogation techniques and what to look for during interviews. We were qualified by three U.S. Fire Administration Attorneys as expert witnesses, put on a stand, and testified our group's fire investigation findings.
"In addition, I was granted access to visit the National Institute of Standards and Technology (NIST) in Gaithersburg, Md. I met with a researcher in charge of the Fire Dynamic research who gave me a tour of the facility. They test everything we come across a day to make life safer.
"I have been a volunteer EMT and fire fighter for nine years and have a passion for helping people. I graduated this past December and would like to be an arson investigator, so it was an honor to learn from all these experienced people."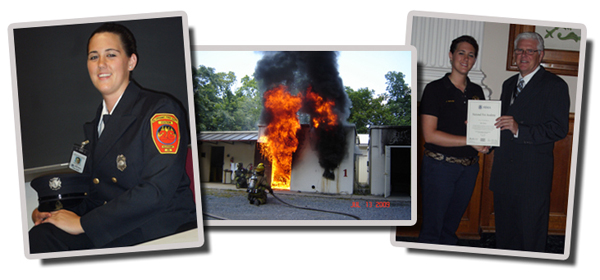 Photos (left to right):
1- Julie Barone waiting to "mock testify" as an expert witness in the Interview and Interrogation Techniques/Courtroom Testimony class.  Her team of investigators was sequestered for three hours while their case was presented to a group of government attorneys.
2 - Based on real-life situations such as electrical fires, careless cigarette smoking, candle accident, or arson, fully furnished rooms in concrete models of homes are set on fire by highly trained administrators using one of those techniques.  Students are not allowed in this area during the fire, but once the rooms are extinguished and cooled, the Fire/Arson Cause and Origin class is brought in and asked to determine the cause and origin of the fire.
3 - Dr. Denis Onieal (right), Superintendent of the National Fire Academy, presents Julie Barone with a certificate of completion of the July 2009 Interview and Interrogation Techniques/Courtroom Testimony course at the National Fire Academy.