To celebrate the completion of the 2010 Winter Olympic Games, Penn State Wilkes-Barre is hosting a movie and discussion series highlighting the touching stories of real-life athletes.  The series kicked off Thursday evening, March 25 with former Wilkes-Barre/Scranton Penguins hockey player Dennis Bonvie introducing the movie "Miracle."
Bonvie spoke about his hockey career and the power of persistence, noting his own struggles on the path to becoming a better hockey player and making it to the professional hockey world.
Bill Bachman, communications instructor at Penn State Wilkes-Barre, said, "We have a very inspirational series about real people and their triumphs in a particular sport.  I believe they will provide teachable moments for everyone who joins us for the series."
Other movies included in this public offering are: "Glory Road" (April 8), "Jim Thorpe—All American" (April 15), "Cinderella Man" (April 22), and "A League of Their Own" (April 29).  All films will begin at 6:30 p.m. in the Penn State Wilkes-Barre Science Center Auditorium.
For more information, and to register, please contact Penn State Wilkes-Barre Continuing Education at 570-675-9219 of [email protected].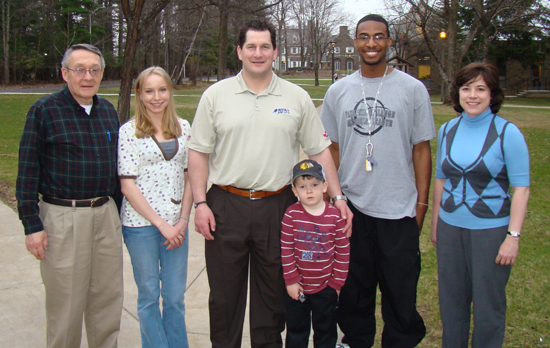 Left to right: Bill Bachman, communications instructor; Alyssa Meadows, student; Dennis Bonvie; Rhys Bonvie;
Frank Peters, student; Ellen Gregorio, Continuing Education program coordinator