In an effort to expand the knowledge of the Administration of Justice field and the resources available to the students at Penn State Wilkes-Barre, the Students for Justice Club (comprised mostly of students in the Administration of Justice program) recently made a donation of three books to the Penn State Wilkes-Barre Nesbitt Library.
Students for Justice President Robert Danko said, "When choosing the books, historical content, relevance to the AOJ program and the state of Pennsylvania, and the artist interpretations were all considered.  Our hope is that the students at the Wilkes-Barre campus will benefit most from this donation."
 The club donated Crime and Punishment: the Colonial Period to the New Frontier; Eastern State Penitentiary: a History; and Hope Abandoned: Eastern State Penitentiary.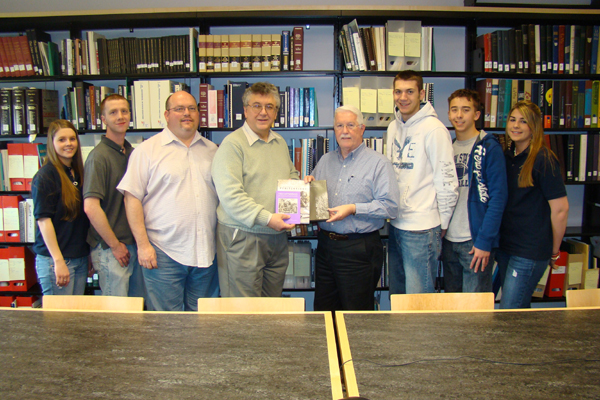 From left: Ashley Callaio, Treasurer; Stephen Haas, Vice President; Robert Danko, President; Marshall Davis, Club Advisor/Administration of Justice Program Coordinator; Bruce Reid, Head Librarian, Nesbitt Library; Carmen Yurek, President-elect; Richard Rachkowski, Vice President-Elect; Jennifer Gadomski, Secretary