About four years ago, college was not the first thing on Robert Danko's mind - simply staying alive took that spot.
After suffering two heart attacks just two months apart, Danko realized he could not continue on the path he was on, working as an explosives technician.
"I knew I had to make some dramatic changes in my career path and education was my only solution," Danko said.
However, the cost of returning to school became the next big hurdle Danko had to conquer.
"The only job that allowed me to make the money I needed to make and not require an extraneous amount of physical effort was operating a tractor trailer," Danko said.  "So, I drove a tractor trailer from coast to coast for three years to prepare myself financially."
Danko returned to school full time this past fall and has not only excelled in his studies, but has also established himself as a pillar to the campus and community, serving in leadership positions for many campus clubs including Students for Justice, Lion Ambassadors, and the Blue and White Society in addition to his involvement with the Wyoming Valley AIDS Council and local volunteer fire companies.
Marshall Davis, Administration of Justice instructor at Penn State Wilkes-Barre, said Danko is not only a leader who takes charge when needed, but encourages and mentors younger, less experienced students to develop their own talents and abilities.
"Drawing on his maturity and wisdom he is always concerned about what will happen to the clubs, activities, and the campus in the future," Davis said.
"His enthusiasm extends beyond his own person as he has done a tremendous job of encouraging other students," added Frank Hughes, also a lecturer in Administration of Justice at the campus.
Danko, an International Politics major, plans to attend graduate school in a dual enrollment International Relations/Juris Doctor program and hopes to one day work as a research professor on a university campus.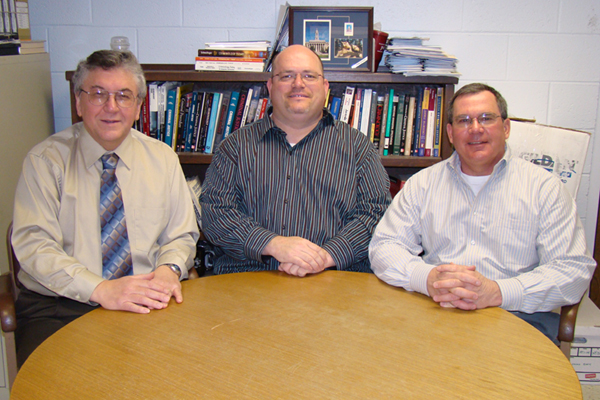 Bob Danko (center) with Penn State Wilkes-Barre Administration of Justice faculty members Marshall Davis (left) and Frank Hughes.