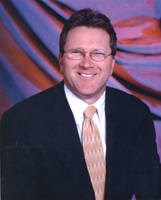 Emmy Award winner and current Chairman of the Board of API Systems, Inc., David W. Reese will address the graduating class of Penn State Wilkes-Barre at the campus commencement ceremony Saturday, May 15 at 10:00 a.m. in the campus' Athletics and Recreation Building.
Reese, a 1978 graduate of Penn State with a B.S. in accounting, previously served as President and Chief Executive Officer of ACTV, Inc., a New York City-based digital media company and leader in the provision of technical and creative services, tools and proprietary applications for digital television, broadband media, and a number of new media initiatives undertaken by companies such as News Corporation, Motorola, AT&T, and NASCAR.  In 2003, and again in 2004, the Academy of Television Arts and Sciences recognized ACTV and Reese's team with an Emmy Award in the category of "Outstanding Achievement in Interactive Television for a Single Program."
Reese, a member of the American Institute of Certified Public Accountants, began his career with Deloitte, an international consulting and auditing organization, where he specialized in the consumer electronics field and served a number of industry-leading clients, including Toshiba and Panasonic.  Reese also served as Board member and Chairman of the Audit Committee of i2 Telecom, a developer of patented mobile applications and services.
Reese contributes significantly to philanthropic activities at Penn State where he was recognized as an Alumni Fellow (2000), the highest honor bestowed by the University's Alumni Association, and Volunteer of the Year (2004).  He was the first chair of Penn State's College of Information Sciences and Technology Advisory Board and led a team of corporate experts who devised a program whose graduates would understand the impact of technology on business, government, social services and education in a digital, global economy. He remains an active member of this committee and also sits on Penn State Wilkes-Barre's Advisory Board.
During this year's commencement exercise, Penn State Wilkes-Barre expects to award 76 diplomas to students who are completing 13 Associate's and 63 Bachelor's degrees.
For more information, please contact Penn State Wilkes-Barre Academic Affairs at 570-675-9252.