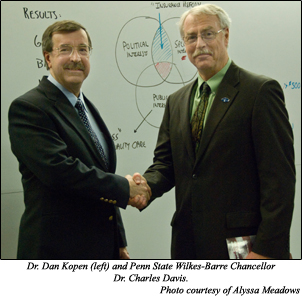 Dr. Dan Kopen, a nationally recognized surgeon and a native of Northeastern Pennsylvania, recently visited Penn State Wilkes-Barre to discuss the recent passage of health care reform and what this new legislation means to our area.
Speaking to a crowd of about 70 students and community members, Kopen recalled the nation's first attempts at health care reforms in this country about 100 years ago.  He then spelled out the factors influencing health care now, including legislation, federal regulation, the drug industry and the medical community, as well as our own individual lifestyle habits such as overeating, not exercising, substance consumption and how all these factor work at setting the agenda for the state of our health care and the delivery of health care services.
Kopen finished his presentation by stressing that this is just the beginning on the ongoing debate and policy over health care in this country.
Author of "Common Sense Health Care Reform," Kopen completed medical school at the Milton S. Hershey Medical Center of the Pennsylvania State University and a residency with the Barnes Hospital of Washington University, St. Louis, Mo.
Kopen is a member of the Fellow American College of Surgeons, Fellow American Society of Abdominal Surgeons, American Society for Quality, American Society of Breast Surgeons, and American Society of Breast Disease.
For more information, please contact Dr. Joseph Jumpeter, Honor Society Moderator, at 570-675-9248.